If you love the target Why not put this color to the kitchen? If you do not have much space, this color is perfect for decorating your home. In kitchens, white, provides amplitude and luminosity, visual cleaning is a fundamental game for the aesthetics of our rooms.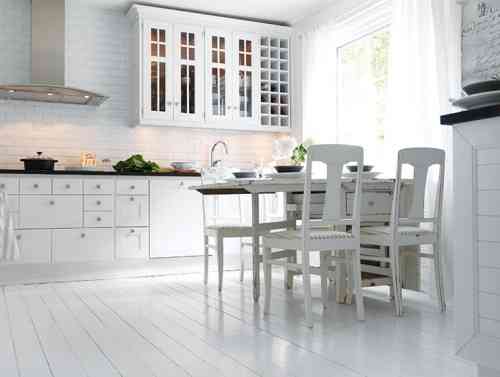 This time we see in the image, a decorated kitchen with the purest of whites. Being the protagonist, this color, gives us an attractive and clean space.
As in the floor, in the furniture, textiles and other articles, of this room, we see that also the white color becomes the owner of the space.
To provide a color note, there have been only a few touches in black. This we can see it on the countertop.
The floor is of white wood and the walls have been covered by white tiles. Beauty and neatness ... that yes we will have to take care of the maintenance of kitchens with so clear colors, because this type of stays are usually the most busy of the home.
Photo: desdemventana.blogspot.com