As if it were a canvas, the artist Nuria Blanco he paints original motifs on plates, bowls and bowls. The result is delicate hand-decorated dinnerware that makes up special sets to decorate the table or the wall.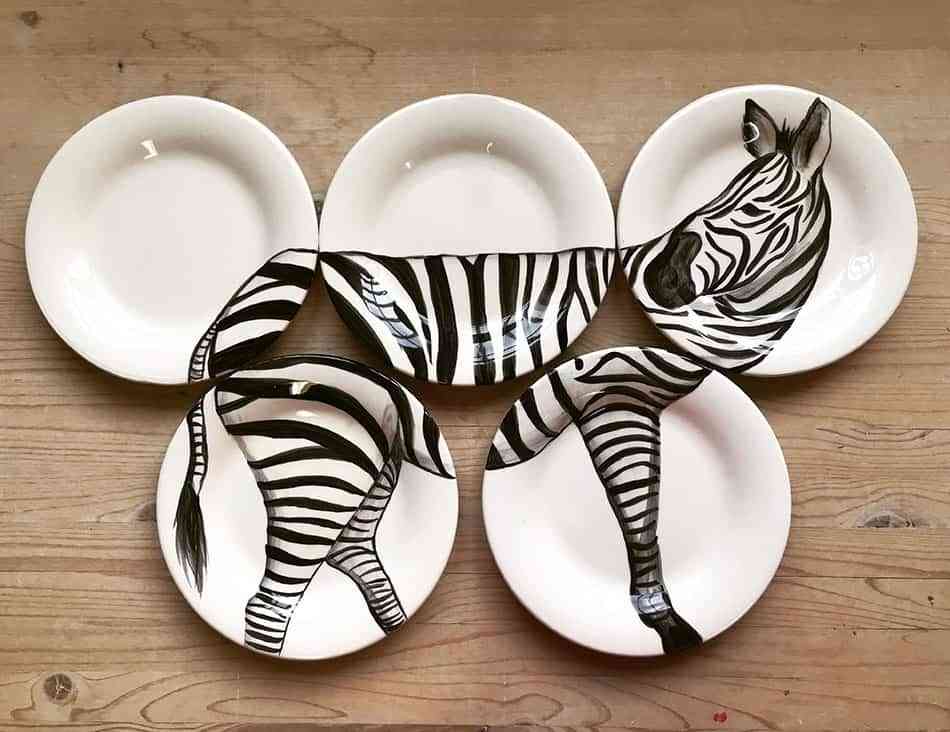 In Nuria Blanco's workshop there are not two equal dishes. At least, not identical since the artist makes her hand-painted crockery with total exclusivity. He does it following the traditional craftsmanship, to obtain the best result.
Thanks to her overflowing imagination, the artist from Madrid He prints his designs on various pieces of earthenware and porcelain, so you have to see them together to admire the beauty of the work. In this way, and as if they were pieces of a puzzle, they compose a painting on the table that decorates and enhances it. It is the most characteristic feature of its hand-decorated dishes, which overflow originality in abundance.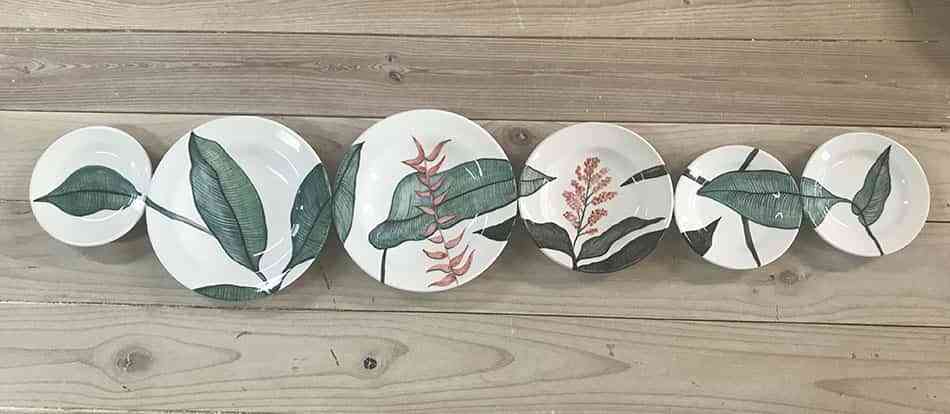 And I can not think of a better way to decorate a celebratory table than with this special artist's crockery. Once the dishes and bowls are laid out on the tablecloth, you will have started an adventure in which the guests will be involved: trying to guess what piece goes with which and what image is the resultant.
Hand-decorated dishes with endless motifs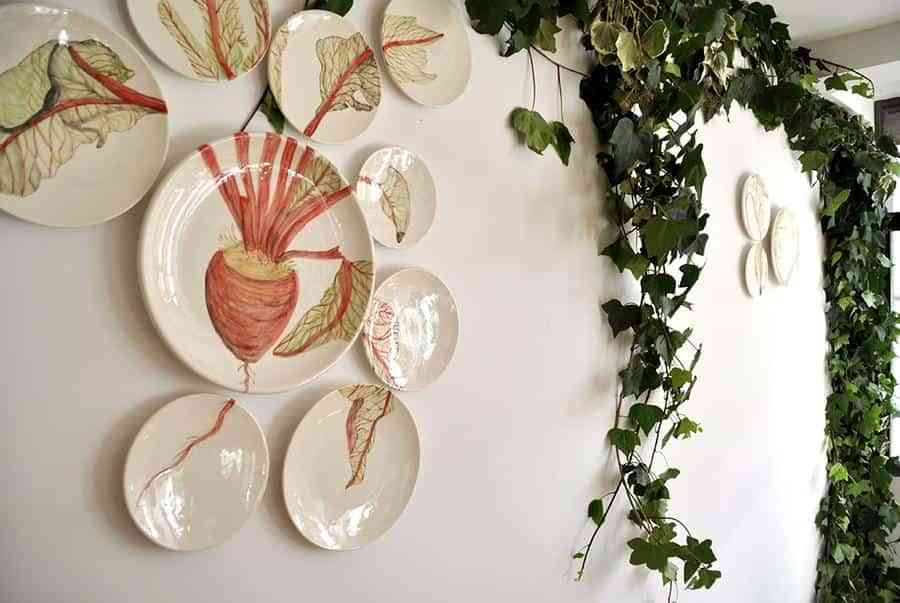 There are many thematic universes in which Nuria Blanco finds inspiration. If one of the artist's favorite themes is the animal world, so is the vegetable universe or the human body.
Thus, the artist trained in Fine Arts is exploring diverse themes to extract essential concepts. Nature, animals, botany and plants ... Even the world of words! Everything becomes a source of ideas thanks to which Nuria conceives its wonderful hand-decorated crockery.
Exclusive pieces for every day
It is true that the tableware hand painted by Nuria Blanco they are unique pieces and that are perfect for those occasions when we want make a very special gift for Mother's Day or, for example, a wedding gift. However, it is also true that he creates them to be used.
Thanks to the manufacturing method that already uses the firing temperature at which the pieces are baked, 1.050 º C, ensures that plates are strong and durable and that they can be washed in the dishwasher without deterioration. This seems to me a very advantage to take into account. This way it is possible to enjoy to the maximum pieces so funny and spectacular, And do not leave these hand-decorated dinnerware relegated only to special occasions.
That they can wash quietly in the dishwasher is fundamental today, when free time is scarce and a treasure.
Collections that fall in love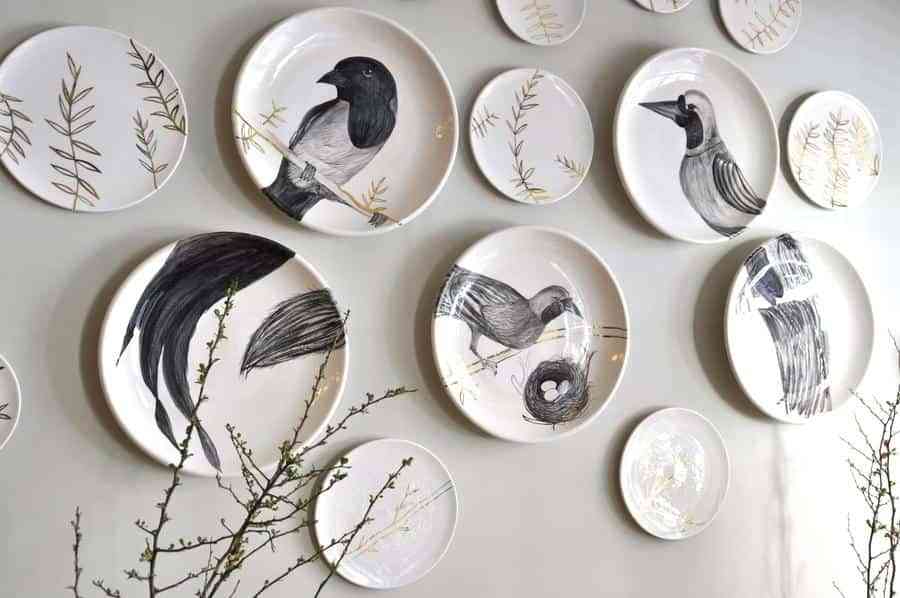 For the new season, Nuria Blanco presents her most special decorations (which you can investigate on your website and store on-line). The collection Duo Zoo It consists of pairs of pieces that show complete images. The organic forms of nature are the protagonists of the collection Botany, which includes very imaginative compositions, and is made in different formats and sizes.
Then we must highlight Appetite, a collection of pieces of white earthenware with designs that are based on the power of the senses and in the representation of the human body. And also the series Irregular, that surprises for being different from all the previous ones. Is about sets of three pieces in which Nuria Blanco has written a word: the conjugation of irregular verbs in English.
But if you want something even more special, you will be interested to know that Nuria Blanco puts at your disposal a service of elaboration of pieces by order, customized to your liking. A perfect idea if you want to make someone an unforgettable gift, or to distinguish the dishes of a restaurant. Even if you want a crockery, handcrafted and decorated by hand, tremendously special for your home, to use with yours every day.
A multidisciplinary artist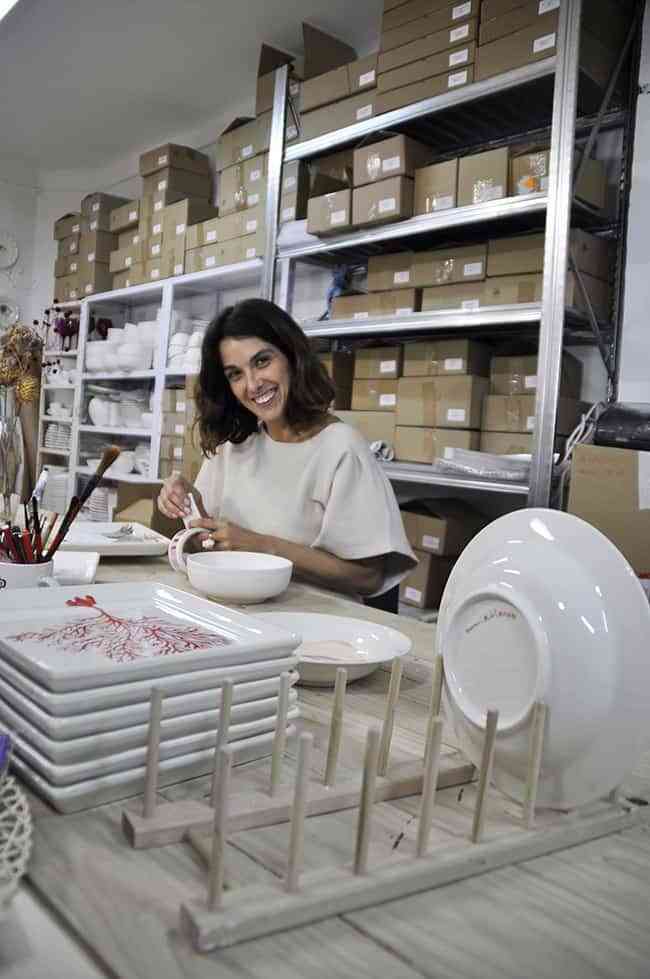 Nuria Blanco is an artist whose radius of action is not solely focused on decorating hand-painted tableware. Although his essential academic training focuses on drawing and painting, he also includes other artistic areas such as printmaking or photography.
More than a ceramist to use, Blanco is defined as an artist who draws on ceramic pieces just as you could on a blank canvas or paper.
Of all the skills that distinguish her, she is surprised by the skill with which she chooses the colors and the care she puts into the details of each drawing. So it is logical that any of his hand painted tableware are authentic works of art.
Which of all is your favorite collection? With which tableware decorated by hand by Nuria Blanco would you like to compose a story?
Photos: Dinnerware by Nuria Blanco.