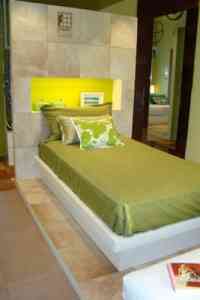 The green color enhances the beauty of furniture made of wood in reddish tones, such as mahogany or cherry. In the same way, this shade and the furniture in chocolate color create an excellent binomial.
The furniture in light tones, like white, stand out a lot on the green, but beware: It is necessary to add darker details to break the chromatic monotony.
The color green is the color of nature, and you can use it even in the bedroom.
Green that I love green: green in the bedroom, in the living room, in the bathroom and even in the kitchen. This color, in its different tonalities, is multifaceted.
According to many popular styles of decoration that arise around the world in which we live, they say many things about the color green and its properties that can end up providing the home where this hue and combination of colors is used.
A good example for this case would be feng shui, which tells us the following
It is the color of nature
It means hope and satisfaction
Associated with mental and body progress
Calm the nervous system and the senses
Break with negative energy.
For this and many more reasons, whether for the simple fact of decorating a new space in your home or modify an existing one, the green color can be used easily since as you can see, it has many possibilities of combination, both with dark tones as with clear tones, with which you can play and be able to experience new styles, but which must always predominate what is very important, which is not to corrupt the harmony of the place which is being decorated, that is, not to leave empty or very saturated spaces, where colors do not have any kind of correlation.