Good morning friends, in today's space I leave you with this centerpiece. A perfect complement to perform in just a few minutes.
If you have any dinner, an event or a meeting ... now you can recycle the balls and Christmas decorations.
During those dates so indicated, many of us put spheres of colors .. although when the holidays are over they return to the drawer.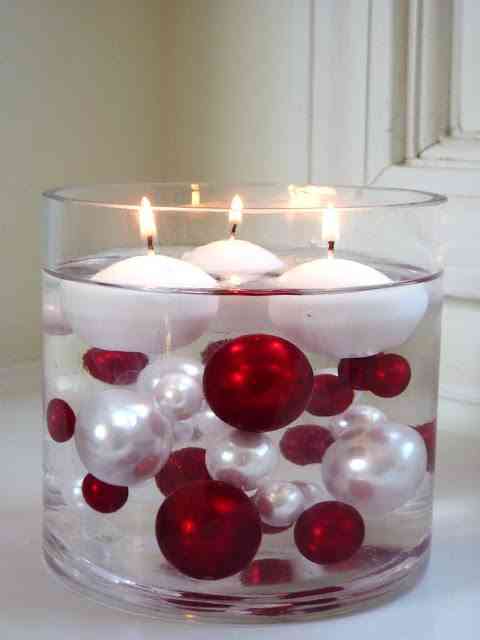 If you have already renewed your Christmas decorations or have some decorative spheres left over, this is a good idea to reuse them.
This time it's as easy as looking for a crystal, transparent glass. In this way the embellishments introduced are perfectly visible.
They have been chosen in white and red, both with very beautiful pearly shades.
You can choose a glass, a vase or a base that you like but you can choose from glass or plastic.
Fill the container you have chosen with a little water. The dimensions will depend on you, besides yours is to add balls of different sizes.
Stuffed to taste, with water inside. Finally you just have to put a few candles to illuminate the decoration.
They will be or should be floating candles ... in this way the effect is much more beautiful. The chosen candles are white, but remember that you can change the color you want.
for example you can combine white and blue or silver balls ... there are many colors to choose from.
The water candles will float on the other spheres and the result is beautiful. If you see a very small centerpiece, you can always make more than one.
If the table is rectangular, place a string of these glasses .. so we will get a very special decoration.
Here you have another idea to recycle remains of the Christmas decoration, I hope you like it as much as I do.
Thank you very much for reading.
Photo: perfectweddingcollections