Today the Ifema begins International Design Week of Madrid and among all the new products and trends that we can find will be classic but also avant-garde designs, a product mix of the union of Casa Pasarela y 360 Interior Home.
Among all of them we can find products like this from the Italian company Gessi, a cascade tap model, elegant and simple that also incorporates LED lights.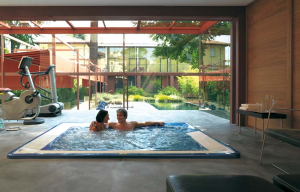 The house Jacuzzi He also wants to innovate in the bathroom and he does it with his star products: the jacuzzi. Your new bet is New Spa de Jacuzzi. We still have no image but we can get an idea by looking at the rest of their Spa products.
Ceracasa will present in its collections concern for the environment, technology and design. Anti-slip products for public places and author's designs will have a place in your exhibition.
In 360 Interior Home visitors will be able to find the stand of International Time, with some interesting collections like Golden Century, of oriental inspiration.
This is just a small sample of everything that can be found in this multi-brand space that disembarks in Madrid from the 27 to the March 31, and to which the public can access the 29 day. Direct sales are prohibited, but what is allowed is to take ideas for our own home.