Are you one of the people who have millions of bottles? If so, today at 2.0 Decoration, we show you how to make original stoppers for all your bottles. Now you can find them a good place, make beautiful groups and expose them for your guests ... or use them to pack juice, spices, liquors or some drinks.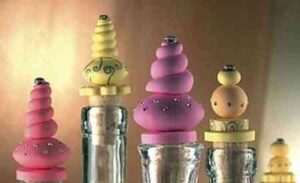 The materials what we are going to need are:
Clays
Roller
Glue
Corks
Glass beads
Metallic color marker
The tapas will be made with cork and clay. For this we take a little clay and make the base of the plugs. This base, once hollowed, will adhere to the cork.
We will have to make the base practically flat and round. To do this we take a little clay and we will form small discs or spheres. Then we will flatten them with a roller, just leave half a centimeter thick.
Now we proceed to make the top of the plugs, the spirals. For this we take clay and knead into a cylindrical shape -Churro- Keep kneading until the cylinder has 5 mm thick by 10 cm long. Then we will mount it on itself exerting a gentle pressure so that the floors adhere. The spirals are mounted on the flat clay bases, pressing a little.
In addition to making spirals, we will also make some clay spheres. These spheres we can flatten them slightly, to be part of the plugs. Look at the image and make your own compositions.
Once we have assembled all the plugs, we will make a basic decoration with some glass beads of the color that we want. So that they are fixed to the clay, we will put a small amount of glue and fix it by exerting a slight pressure.
We bake the caps for 30 minutes at approximately 110 ° C / 230 ° F and let them cool. Now we take the cork stoppers and use them as second base. Stick the clay to the corks and go! Decorate with metal marker, as you want.