The new and ecological set of cups «OUTSIDE-IN» has gone on sale in 2009. Its design is so particular that although they are painted in colors on the outside, we can only appreciate their intensity on the inside. The cups have been hand made and have been carved and protected with a waterproof finish.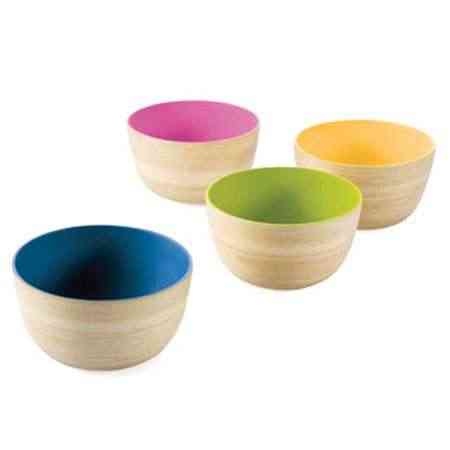 Its main building material is bamboo, in addition to the ecological paints, with which they take those bright tones, and the natural waterproof protector. They are used to drink both hot and cold drinks, they are easily washed by hand, with soap and water, or they can be cleaned with a dry cloth, depending on the use we give them. They are so ecological that they are not compatible with dishwashing machines or microwave ovens. The cups are sold in a set of four that includes one of each color. We find them in four attractive references: Chewing gum (magenta), Kiwi (green), Mango (yellow) and Curaçao (blue). Each one measures approximately 6 cm tall and 10 cm in diameter.
This beautiful game demonstrates that it is possible to develop healthy and healthy products that respect the environment and that support fair work in developing countries. They are made with organic% 100 bamboo, natural lacquer (derived from the Indian walnut tree) and polyurethane that does not pollute the food. Its price is $ 56.00 and you can find them in www.inhabitatshop.com.