If we want to give our ladder a different aspect We can use certain items that provide the style we are looking for. If you like "lo" rustic, what better way to express it than placing a large rope, on the stairs, like pass hands!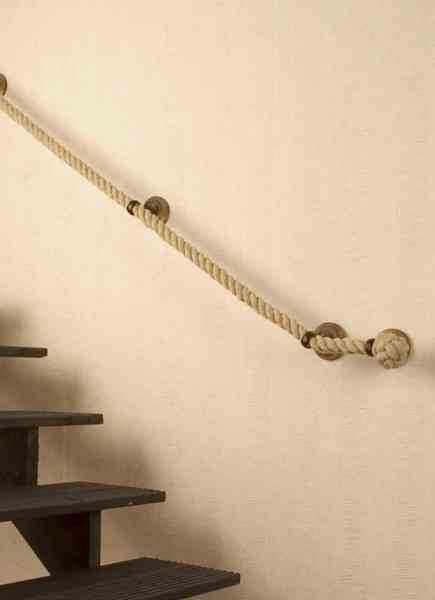 It is an accessory very easy to install, but with a spectacular finish. For those of you who are remodeling your homes or just want a new look, here is this simple idea that may be useful for you.
The materials that we will have to use are quite economical, these will be:
- A thick rope
- Some wooden tops
- Some hooks or screws - must be large for the rope to pass-
The first step is measure the distance of the stairs; If there is too much we recommend cutting the rope for the different flights of stairs.
Once we measure we get as much rope as we need. We also recommend that it be quite thick and resistant.
We make measurements we will go placing the hooks, where the rope will pass. These - the hooks - must be large enough for it to pass. To decorate much more, on each hook we can place a trim, wooden tops ... etc. in this way it will look much more our rustic staircase.
Finally we will do at the beginning and at the end a knot in the rope; for more security, if we want we can make knots in sections, just where the hooks will go.
As we can see, the most beautiful does not have to be expensive. Only with a little imagination we can achieve, that environment we want. What do you think?