As a general rule, we tend to leave ceilings of the house in white. This is a "general norm" that, after so much use, has almost become a "mandatory norm", as it very rarely breaks down.
Today I will show that breaking with imposed ideas can give a resounding turn to the decoration of any space. In this case, painting the most striking colors of the ceiling of a room can make it different, cozy, special, original ...
If you are thinking about painting your ceilings, do not lose detail:
A touch of color In the ceiling, it contributes to the atmosphere of any space, originality and warmth, turning it into a stay much more welcoming.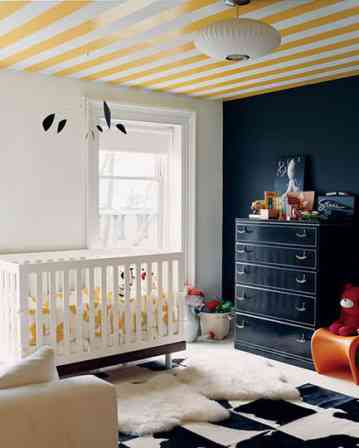 In a house they are especially ideal for rooms, work spaces, etc.
On the other hand, it becomes the ideal option when we want to soften or soften large contrastes. Before lamative colors a white ceiling helps to harden the contrasts that may exist between walls, furniture, textiles, tec. However, if before this type of colors you choose to paint the ceiling with any other color more appropriate, the contrast softens and as a consequence the harmony will reign.
The advantages are many and if it is a trend that you like, keep in mind because it can take a completely radical turn decor of any of your stays house.
The best example is in the previous images. As you can see the change is really great, the colors bring originality, warmth, create a much more special and harmonious environment, something that with the white ceiling could not be achieved.