If from decoration trends it's about, today we want to tell you about a company project Fiat that, although you may like it or not, is very innovative and interesting.
This is the Fiat 500 Design Collection What is this? Based on the replicas of the 1970 year version of the Fiat 500 car, the Italian car brand has launched a furniture line for the fans.
La Fiat furniture line 500 Design Collection was presented during Milan Furniture Fairn, and is the result of the partnership between Fiat Meritaria interior design company and the designer Lapo Elkann.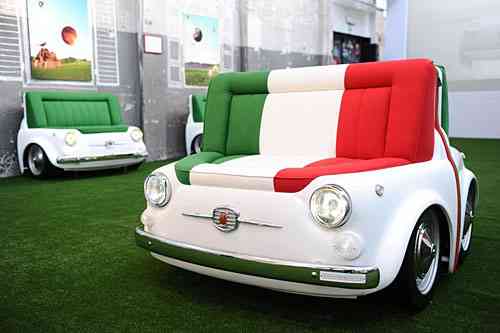 The collection consists of three pieces of furniture that include a desk, an sofa and a table with wheels, all with the front of the Fiat 500 and the signature Lapo Meritalia. The three pieces of furniture are available in four colors: red, black, green and white.
The desk has received the name of Cincin, the sofa is called panorama and the table with wheels is called Picnic.