Now, with the good weather, it is an ideal time to prepare our exteriors to enjoy them. If you have a terrace, a patio or similar use them to create a relaxing and comfortable environment.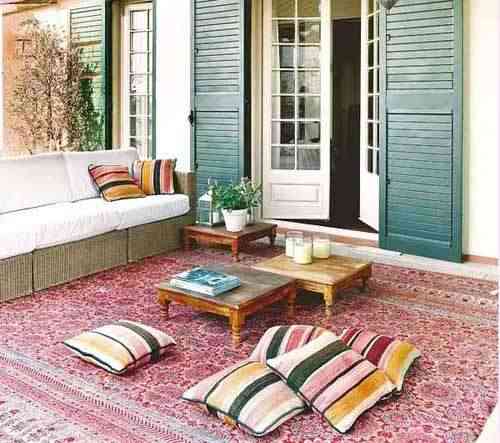 It does not matter that you do not have too much space, on this occasion it will matter much more as decorate and the atmosphere that we grant him Creating a cozy terrace is not as complicated as it seems.
Enjoy the open air It has no price, so just place outdoor furniture, think of your comfort and that of those around you. Place some chairs or lounge chairs. The cushions will be indispensable since they will provide the brushstroke of color that we are looking for.
The hammocks can become indispensable, becoming the protagonists of the decoration. Do not forget to locate a coffee table and if you have space a sofa or poufs will be ideal to relax outdoors.
Textiles will bring color to our environment, think of rugs and pillows. An umbrella for the sun and details such as flowers or vases will bring personality to the room.
The colors will be our favorites so we can make beautiful combinations. Finally remember that light is almost more important, think about placing some candles and standing lamps or lanterns.