This amazing apartment complex has come out of a game; and it is as if they were pieces of Tetris we see how they are arranged in large blocks of colors.
But on the contrary, this housing complex is nothing more and nothing less than a studied project. The name of this project is "Apartments on the coas" and it is a great idea of ​​OFIS.
Also, in addition to looking for the visual impact has tried to take advantage of the nature that surround it. As we can see instead of a flat design whose walls appear flat, it presents a curious completely asymmetric structure where the windows, very close to each other, protrude from the same structure.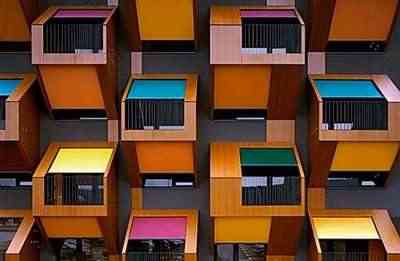 In this architectural construction design studies has tried to take advantage of natural ventilation; this way you can regulate the temperature inside while at the same time, with colorful fabrics, the balconies take advantage of the shadows produced naturally.
These windows provide excellent privacy and help keep a little more away from neighbors.
As you can see a different architectural building for different people.