If something distinguishes Christmas from other times of the year is the lighting. The streets are filled with lights, with varied designs, ranging from the most traditional to the most modern, in order to immerse ourselves in an atmosphere full of magic. In addition, we must not forget that in recent times there has been a revolution in lighting with led lights, widely used at this time. They allow a touch of modernity to the ornaments of a lifetime.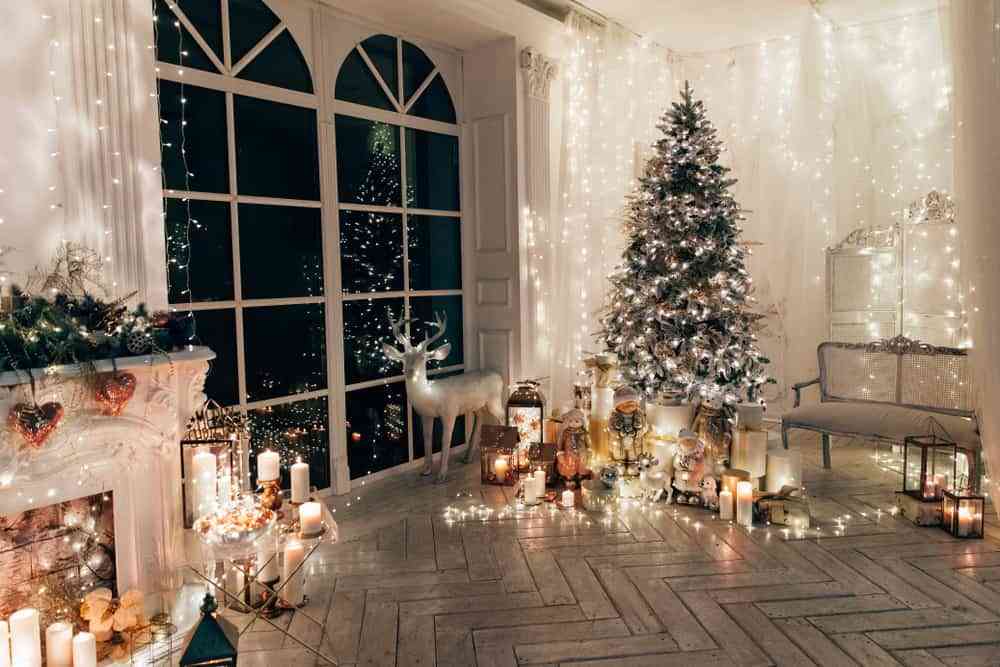 You may be thinking about how to decorate your home during these days. Maybe you receive family or friends and would like to give a Christmas touch to your home. It does not matter if your budget is low because, ultimately, DIY (Do it Yourself) that is, the "do it yourself" It has become fashionable and there are endless ideas circulating on the net aimed at all pockets. The only thing you will need is some time and much enthusiasm to make some ornaments that you can keep from one year to the next. We tell you what is the most original decoration with led lights for these holidays.
Vases with led lights inside
Easy and elegant In recent times you can find it in many hotels and restaurants. It is simply about taking a glass vase and placing some led Christmas lights inside it. There are many variants, with pineapples and lights or Christmas plants such as fir leaves and lights. It gives a sophisticated air and is simple. What more could you want?
A different Christmas tree
It is one of the most used ornaments during Christmas, but perhaps that is why there are different types and materials. If you follow the DIY philosophy (Do it Yourself), that is, the "do it yourself", we recommend that you take some branches and make the shape of the tree. But it's not the only thing you can do, because there cardboard trees, crochet, made with cork stoppers and even mountains of books that simulate the same way. What is indispensable in any case, are the Christmas lights. You can choose to be white or colored, blinking or fixed. In any case, you can not miss this basic Christmas.
The stars, reinventing the classics
The stars are one of the most typical ornaments during Christmas. Here would be fulfilled what Master Hitchcock said about the classics: "Better to start from one than not to fall into it." Take paper and scissors and get down to work. You can make it from different materials. Cardboard in 3D, bamboo or build a wooden frame and then cover it with rope. Anyway, to impregnate it with the Christmas spirit, nothing like decorating it with colored or white lights, as you prefer. It is a decoration that you can hang in different parts of the house, therefore very resorted, and that is the most economical.
The crowns
Perhaps the oldest ornament of all. It is also part of the DIY (Do it Yourself) ornaments, that is, the "do it yourself". You can take the branches of a fir and join them carefully or opt for more original crowns, made with the classic Christmas flowers, better known as "Christmas Eve". Another option is join some branches and roll up some Christmas lights around. And in recent times, it has also become fashionable to crowns made with cartons. They are modern and easy to make. There is no doubt that the crown is an ornament that you can place anywhere in the house. Some even put it on the door to congratulate the parties from the first moment.
The pineapples
Pineapples are another DIY (Do it Yourself) ornament, that is, the "do it yourself" that you can easily find by approaching the mountain and taking some to decorate your house. You can create crowns helping you with branches or simply putting them in a jug. In any case, an element that can not be missing are the lights. Surround the crowns of a strip of led lights or put them in the vase and create the setting you're looking for.
Santa Claus hats handmade
Maybe you're thinking of making an ornament to put on the coffee table or a piece of furniture. Paper hats are usually a good option. Again, they belong to the genre of DIY (Do it Yourself) ornament, that is, the "do it yourself". You just have to take a red and white card and make the shape of a cone. Then you can put some Christmas lights around to give them a Christmas touch.
Snowflakes
A fun ornament that you can hang on the wall in different parts of the house. Join a few twigs and give them the snowflake shape. Then put Christmas lights around you. Easy, affordable and quick to make.