Valentine's Day is approaching and it does not hurt to think about how you are going to tell your sweetheart that you love him. Flowers, perfumes, jewelry and chocolates are never ill received, but today we want to tell you a much more original idea: tell it with a vinyl. Discover the vinyl for lovers most romantic on the planet. Love is in the air!
Of course he (or she) knows that you love him, but to make it clear to him is never a bad idea. For this reason, and taking advantage of the fact that there is very little time left for celebrate Valentine, today we are going to give you a great idea so you can tell him how much you love him. Do it with one of these loving vinyls for lovers. They are perfect for newly-married flats and for all those who believe in true love.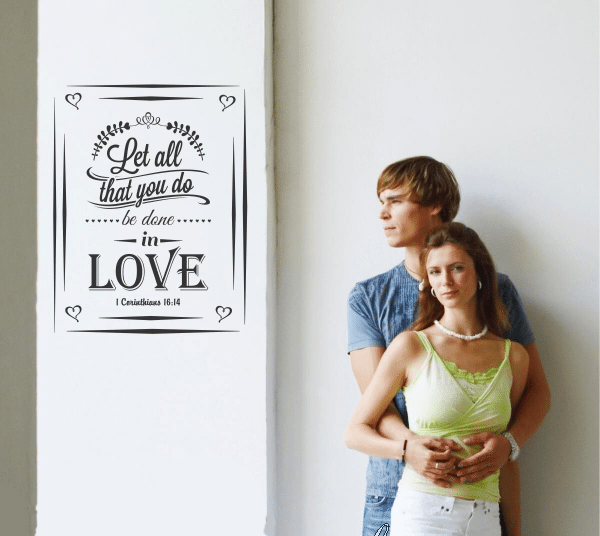 You know that decorate the walls with decorative vinyl it's a great way to renovate the interior from your house. All are advantages: the vinyls are original, they are not too expensive and are easy to put on and take off. Bet on them!
Vinyl for lovers: A dose of positive energy for your walls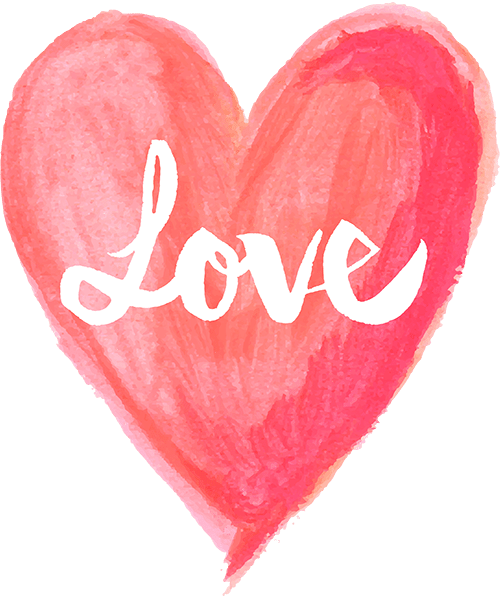 If you are in love and you want everyone who comes by your house to know, nothing like decorating any of your walls with a nice vinyl. Can be a special phrase (We already tell you about the infinite possibilities offered by vinyl with texts) or a huge heart that overflows love.
There are so many vinyl ideas for lovers, that it will not cost you anything to find the perfect design: more or less romantic, more or less sweet, more or less original, more or less discreet ...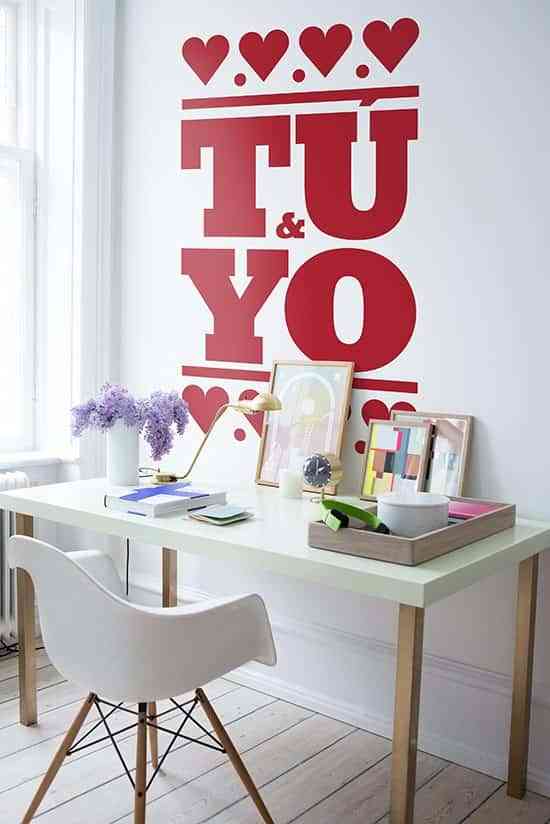 Whatever you choose, be sure to place it in a very visible place. It can be in the living room, in the bedroom or in the study corner. The fact is that it is clear that your house is a nest of love, a paradise for you, the EDEN with capital letters.
How to choose it and guess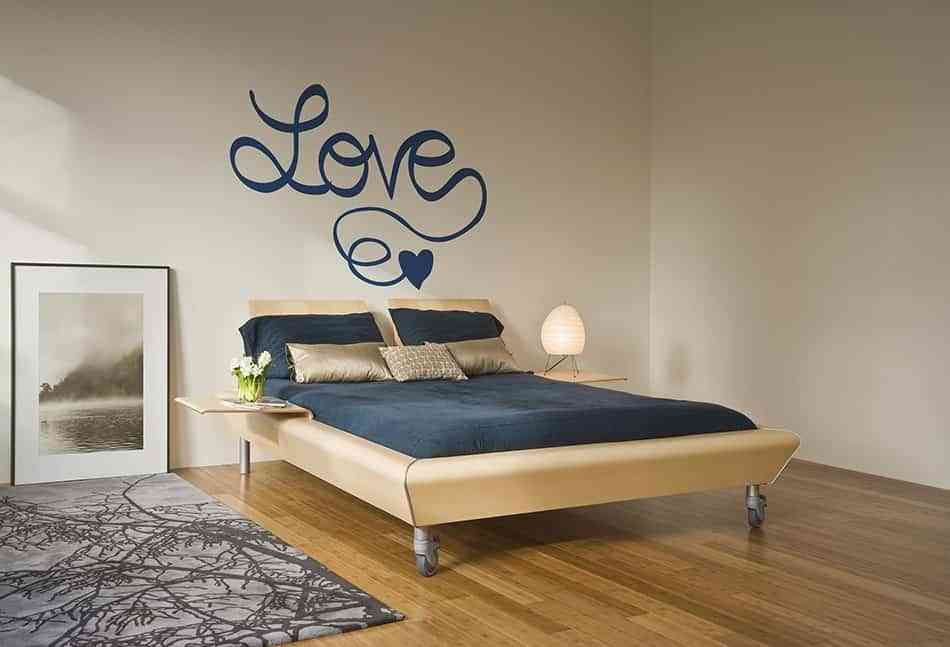 Placing a decorative vinyl on your favorite wall is a great idea to give a fresh air to the environment. And if, in addition, you decide for one of these vinyl for lovers you will have found the perfect way to express your feelings and rekindle the flame of love. You already know that this never hurts, especially after the first years of coexistence.
Choosing it is very simple. Once you have thought of the model that suits you best (a full-fledged declaration of love, a funny drawing, hearts at ease or something more discreet, etc.), it's time to customize it to be perfect.
Choose the color according to your tastes (do not forget yours) and the tone of the wall. Make sure there is a contrast between the color of the vinyl and that of the background. Then take measurements and choose the right size to the place where you want to place it. You only have to order it (you can do it in any of the different online stores of decorative vinyl that exist in our country).
When installing it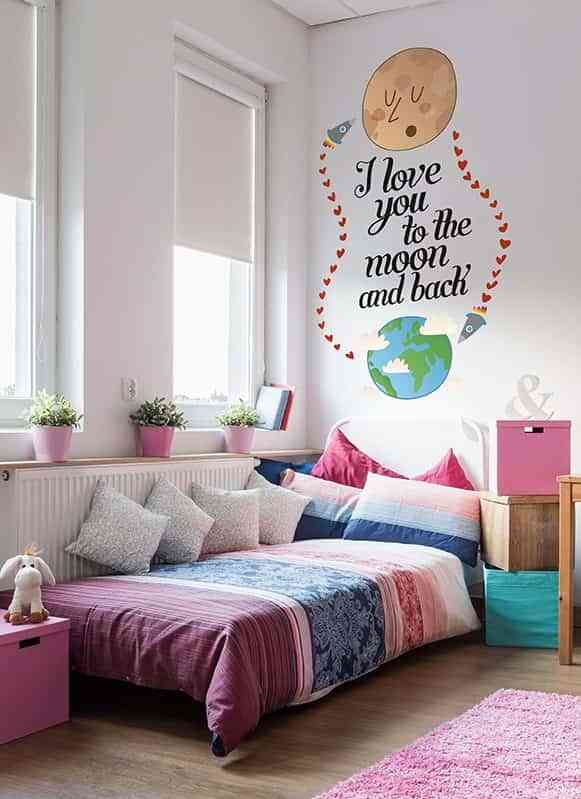 We have already told you on some other occasion that place a vinyl on the wall It is not complicated at all. You have to follow the manufacturer's instructions, but the job does not have any difficulty and you will have finished it in a jiffy.
Yes, it's convenient Take some measures to get the best result and that the vinyl does not take off after two days, which would be quite disappointing when it comes to the subject, do not you think?
In love, the basis is fundamental. It must be built on a good foundation of trust and sincerity. Well the same happens with these cool vinyl for lovers, you have to prepare the base well before putting them. And, in this case, the base is the wall. This must be clean and free of dust before installing the vinyl.
A clean wall, a little skill and patience, and your vinyl will be perfect, strong and durable ... until you want.
Easy to put on and take off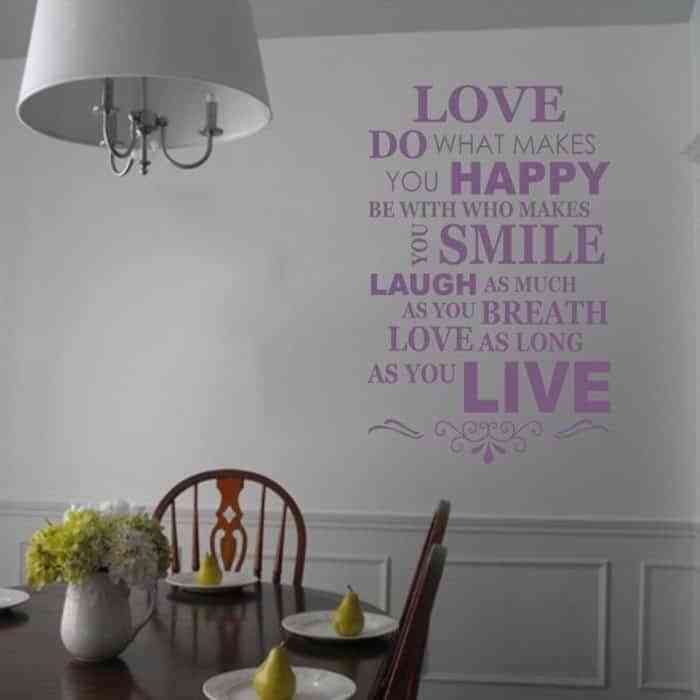 Love is also freedom. And the same goes for your vinyls for lovers. That same today seem the most, but tomorrow they start to be too obvious and you want to remove them.
Well, the good thing about vinyl is that You can remove them whenever you want without leaving any type of mark or mark on the wall. This is another of its advantages. Thus there is no fear of being wrong.
As you have already realized, you have before you a whole world of possibilities to celebrate the day of the lovers in everything big. Your partner will not have the slightest doubt how much you love her. Happy Valentines!