Rugs that are at the same time, true "lounge" sofas, armchairs that can be a bed to lie down and relax, sofas that incorporate support tables and cabinets that are transformed into work tables.
This furniture is very suitable for people who move in a world in which we unfold in multiple activities assuming the most diverse personalities if you have barely time to think.
Multiple functions in a single object
Xarxa Danese
To satisfy a generation of consumers who need to have the freedom to assume different roles, even in their domestic space, the furniture industry is adapting its offer to the needs of this audience.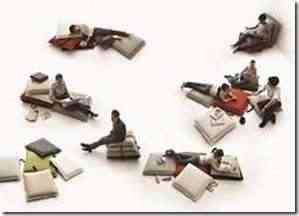 It is in this sense that important brands have been oriented, including in their portfolio an offer of multifunctional products that please for their practical aspect and are at the same time ludic.
Armchairs with double function
The armchair of BBB-EmmeBonacina, gives us a version of the old armchair bed. But in this opportunity with a much more current design, with the use of natural and ecological raw materials.
The double function of the armchairs is usable at any time and exceeds the rigidity of the chair or armchair function.
The absence of covers, means that anyone can, at any time, unfold the chair and assume the horizontal position for a short period of time.
Easy to maneuver, this double function is achieved through a design of excellence of equal aesthetic value in both versions.
Puffs and sofas
The Xarxa puff of Danese, that we see at the beginning of this note, promotes the same double function, in this opportunity, of the hand of the designer Marti Guixé, sent in the Fair of furniture of Milan in April of 2008.
See also the sofa of BBB-EmmeBonacina, which from a traditional sofa, transforms into a bed with a surprising format with the inclusion of two puffs designed to allow a multiplicity of shapes and functions.
Mats not only to step on
See now the mats of Nani Marquina. The renowned Spanish designer, developed a model that assumes that the mats do not only serve to step on them.
Through the wedges applied between the floor and the mat, these models are a box of a different way of being.