Within the decorating our home, we must take into account that it enters every corner of the house. The rooms can be converted into unique places, where a balanced decoration, with the style that you have chosen to implement.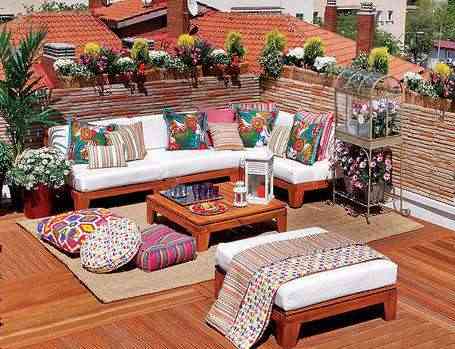 La terraza it will never be the exception, this space is ideal to take a breath and oxygenate. It is also a great place to receive visitors, and more when the good weather floods us.
There multitude of ways to decorate the terraces, achieving cozy, natural environments and great comfort.
If you have a terrace or a small patio, take advantage! And speaking of "remove" undo or locate elsewhere, the items you have on the roof and keep what you can Take advantage for the rehabilitation of this space.
Now we will measure the area that has remained free and with this we will make a small plane or scheme with the disposition of the place.
This will help us to get a clear idea that furniture we can place, where and what space will be free.
The main elements For this type of stays, a table and an umbrella will be ... we do not want to singe in the sun. depends on the size of the room and our personal tastes we can opt for a lunge, country or urban style.
Another of the essential items for this type of decoration, will be the plants. These provide oxygen and a peaceful environment. It does not matter where you place them, on the floor, on the table or hanging pots ...
The cushions they are never more, big pillows, pouf ... decorate with your tastes, but first make sure of the style you want to give your new terrace.
If you want to give with modern and cozy details, Place some glass bowls with water and floating candles will give a good result.
Finally, we always comment that the lighting plays an essential role, lamps or paper lanterns are a good choice over dim lighting.