Good morning friends! The bath It is one of the rooms that should inspire relaxation and comfort .. remember that it is often frequented on many occasions, throughout the day.
As a so busy stay, the decor It should be ideal to add a touch of harmony to the environment and thus enjoy the moment of personal hygiene and other needs.
But to decorate the bathroom and also like it, we must take into account some small things. These tips that we detail below, are fantastic to achieve benefit all the bathroom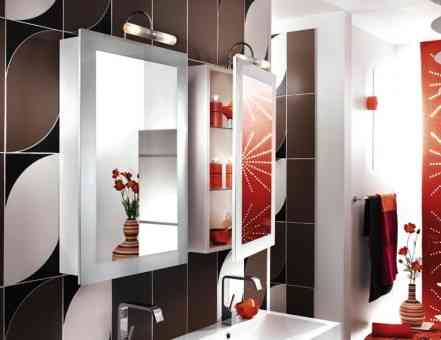 We must take into account certain aspects, these in addition to being important, can be practiced economically .. it is not necessary to invest too much.
One of these aspects is lighting, keep in mind that it is a very important factor because it will help us create the kind of atmosphere we want.
Different points of light or at least one general light are needed. This will be located on the roof. Then we can have other points of light such as in the mirror, in the sink ...
Good ventilation is essential, because although the bathroom is well conditioned we have to avoid humidity to concentrate on corners, bathtubs, towels and others.
To avoid this, open the window and the door, to ventilate. Ventilation is very important, if we do not have a window, install an extractor and open the bathroom door. Try to remove all wet clothes and wet carpet if you have.
Practice buying furniture with double function, it will be perfect especially if you do not have too much space.
Depending on the space we will choose between a bathtub and a shower. In the market we have great designs at very competitive prices.
Do not discard accessories such as hangers, shelves, towel rails ... are the most practical and functional elements to keep things organized.
Last but not least remember to take care of the materials of the floor and the shower, sink and others .. try to choose them anti slip.