If you are an absolute fan of white and you like environments total white, sure that most of the spaces in your home are decorated in this bright and bright color. And, although clean and radiant, sometimes the white spaces sin of cold, especially if they are very modern and minimalist. Today we bring you some great ideas to bring warmth to a white kitchen.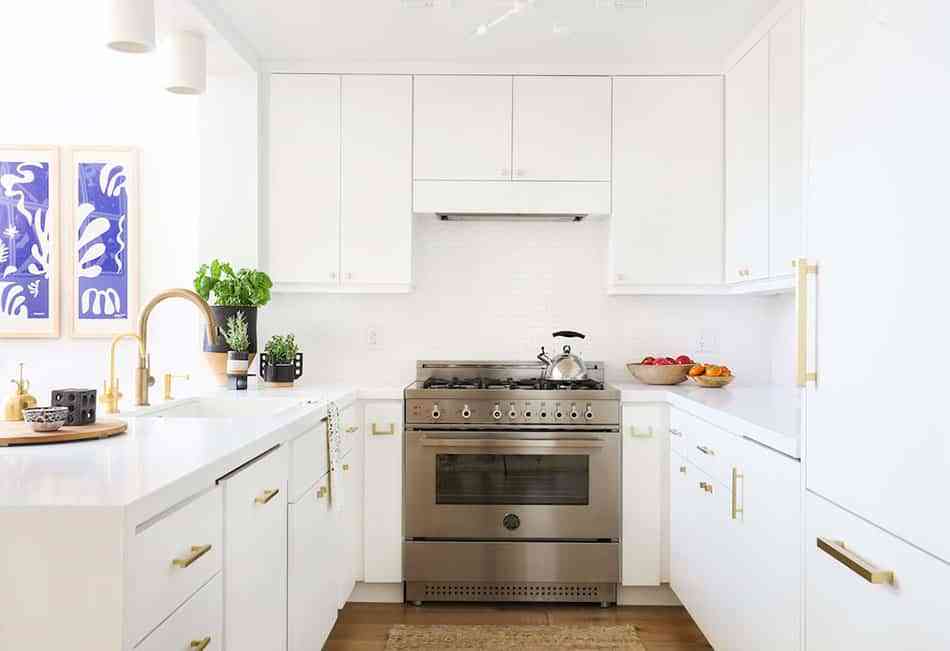 White is a great color for kitchens. It is clean, current, light and bright, all these qualities really valued in a space of this type. However, and especially in a minimalist style environment, it can be cold and impersonal. Here are some keys to bring warmth to a white kitchen and succeed.
Although the white color is timeless and very elegant, sometimes it can stay a bit depersonalized. In any case, this is not a problem. Or should not be, since There are many ways to make it warmer and more welcoming. You do not have to give up the many advantages that white offers you, you just have to warm it a little bit. You do not know how? We explain it to you.
Give warmth to a white kitchen with a wooden floor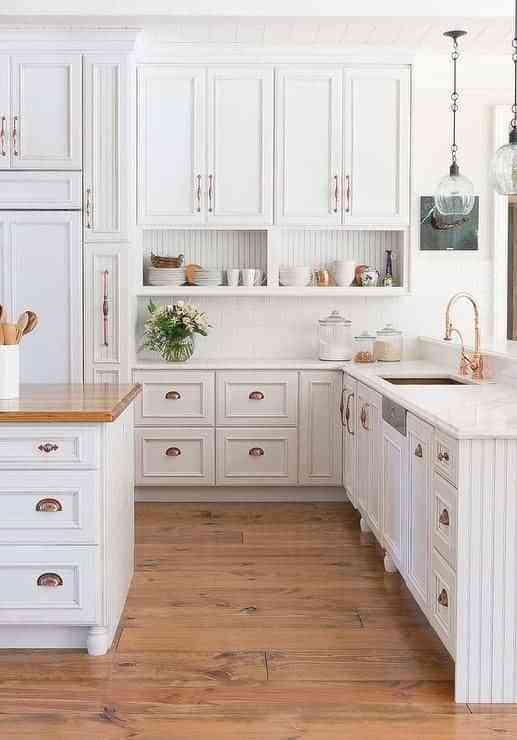 Few materials result more natural and warm than wood. It is not only perfect in furniture and objects, but also in coatings and surfaces in any space of the house. Its soft touch and its variety of colors coming from nature, they make it the star material in any room of the house, including the kitchen.
And is that a way to add a warm touch to a white kitchen is installing a wooden floor. It may not seem like a good idea or even scare you. However, you have nothing to fear. Today there is wood coatings able to easily withstand humidity that there may be in a kitchen.
A well-installed wooden floor can withstand normal use of the water area, with some splash and the use of the mop. Although for these cases and locations, it is convenient to choose laminate flooring with anti-humidity protection. Or, even, a ceramic coating (or also a vinyl floor) that imitates the wood. Both materials achieve the visual aspect of wood in an amazing way.
Mix of textures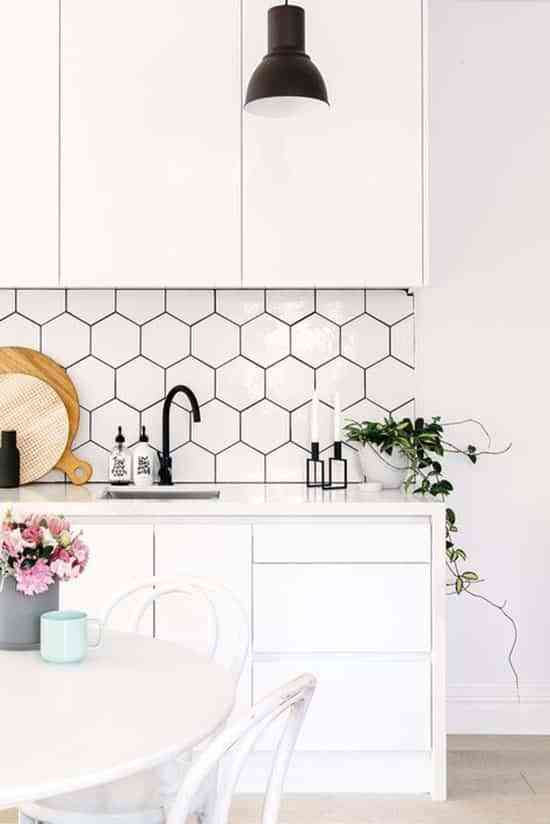 An effective way to create visual interest in a monochromatic space is include different materials and textures. In this way, the environment is not too homogenous and different schemes and patterns are introduced.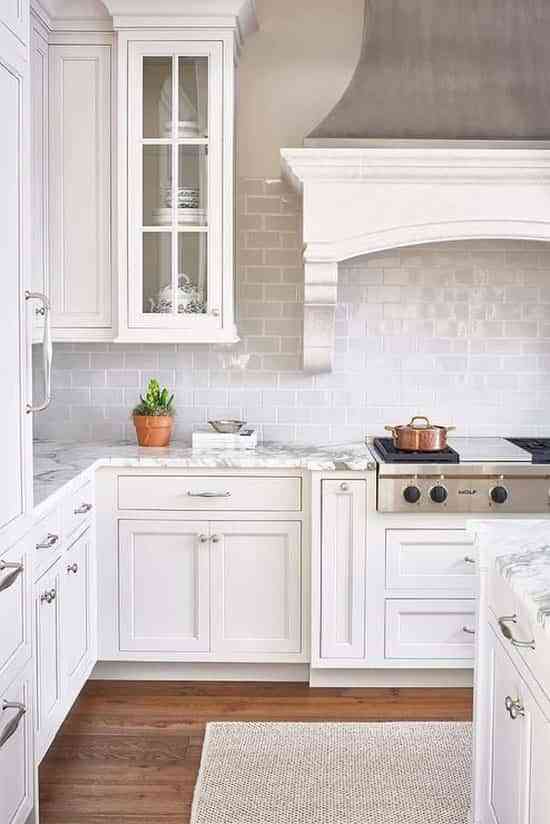 But how to achieve it in a kitchen total white? it's possible if you combine materials in the different surfaces creating, for example, a wall of subway-type tiles, or with a different pattern, shape or finish.
Countertops are also a resource with which to play. They can be white, but there are many different textures: stone or compact material, etc.
Warm lighting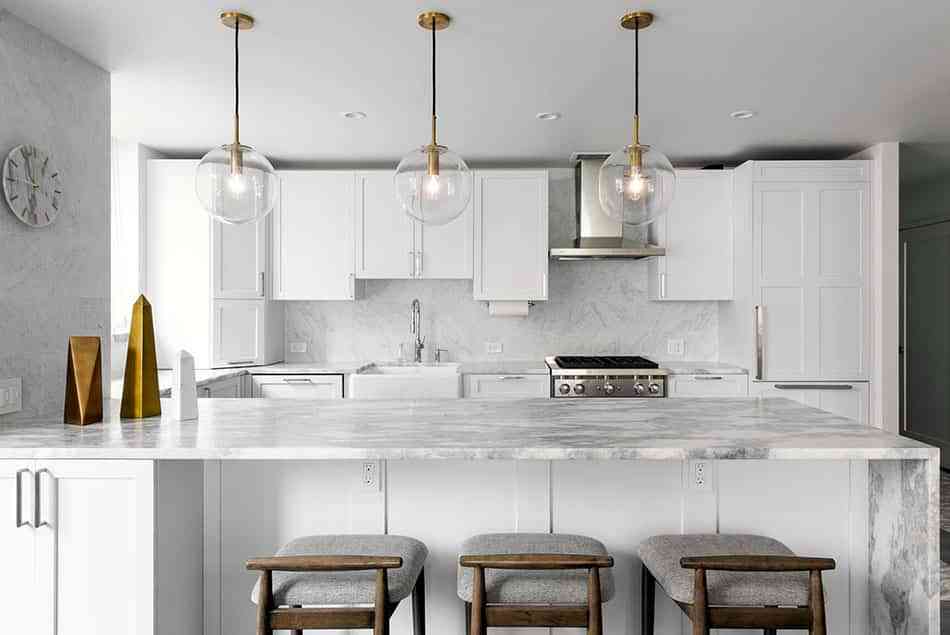 You already know that lighting is a very important way of create atmosphere in a house, whatever the room in question and, therefore, also in the kitchen. In this space we tend to place lights too cold that do not help when creating a cozy atmosphere.
Therefore, if you want to bring warmth to a somewhat cold kitchen, you should choose warm lights neutral color (better than white). And you must also make sure that there is no light. Bet on abundant lighting, with ceiling lamps that provide general light, and systems to illuminate work or dining areas.
Accessories also matter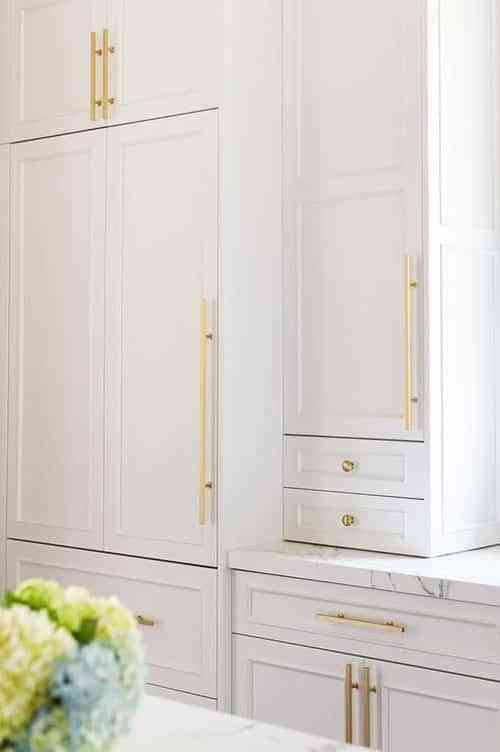 And I do not mean the kitchenware, or the crockery. I'm talking about accessories that are not as ephemeral as dishes or cutlery. I mean things like the handles or the taps.
With regard to the handles of kitchen cupboards, you can not imagine how much the general atmosphere of the space can change, only replacing these accessories. An idea to bring warmth to a white kitchen is place brass gold handles. In addition to being more welcoming, the atmosphere will win in elegance.
The sink faucets also give us an opportunity to add a warm touch. To get it, choose bronze colored faucets, matt or shine, instead of the usual stainless steel.
A touch of fresh flowers
This last detail does not stop being ephemeral but effective. A nice bouquet of fresh flowers of an intense and special color helps to put a warm and natural touch in any corner of the house. And the kitchen is no exception. If you worry that flowers are a common element in your kitchen, it will never be a cold and impersonal space.
As you can see, making the kitchen, however white, minimalist and modern it may be, is the most welcoming place in your home.