Dear friends! Today in Decoration 2.0 we will talk about the latest trends in bathroom, for this year 2012. If you want to decorate again, one of the busiest stays in our home, we tell you that for this year new trends impose the well-known minimalism and natural forms.
Alternating nature and minimalism, within the same space, to create comfortable, original and refreshing environments.
A simple and disturbing design, elegant and glamorous in every step .. The details will be very important, the lights and finishes can become the protagonists of the bathroom decoration.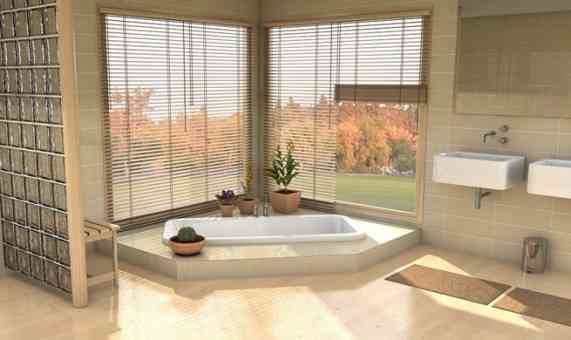 A relaxing environment where you can enjoy the moment and for this we will only open our minds to new proposals in decoration.
The colors are soft again, no shrillness and garish tones ... we can use shades such as cream, white or sand color. Look for a color to contrast, for impact results look for the attractive black color.
The furniture will be customized, very effective solutions to take advantage of even the slightest useful corner of these rooms. Measuring furniture is in trend and we can also take advantage to demonstrate our originality.
The small luxurious details, also fall within the new trends .. whenever possible .. For example find yourself with a small and compact sauna or a mini fridge for personal items are more than attractive ideas for this year.
Finally, we recommend that you make use of new technologies in the field of health, during this year 2012. We can incorporate taps with sensors and systems to avoid wasting water.
Use low energy bulbs especially in summer, so they do not reach too high temperatures.
Ladies and gentlemen, these are the innovations that the 2012 brings to all our bathrooms. So if you think about changing the look of it, dare with the new trends.