Unless you live in a loft completely diaphanous, The interior doors they are a fundamental element in any house. They protect our interiors, isolate them from the rest of the house when we want, and give us privacy if we need it. Today we are going to show you how you can convert them in a very decorative resource. Discover everything you can get if you decide to paint the interior doors.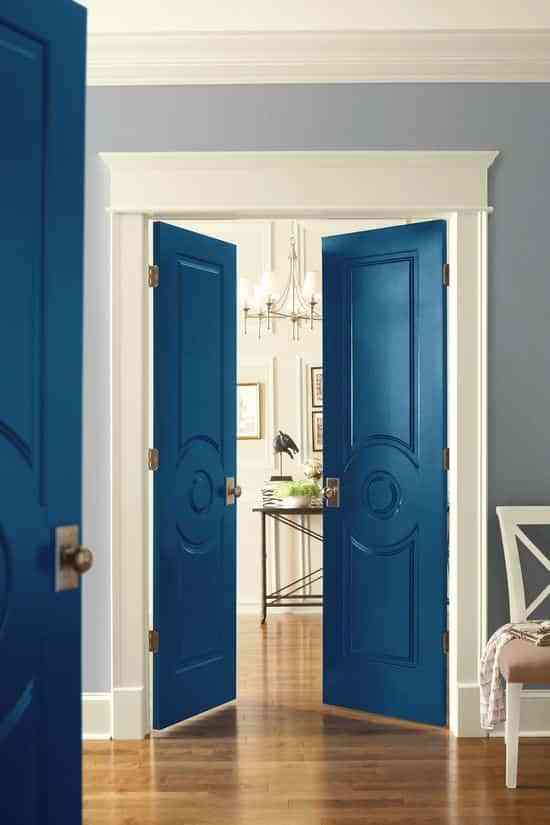 The most common in our houses where the interior doors are the same material, color and finish that is the rest of the carpentry. It is likely that they are white, just like the baseboards or the doors of the built-in wardrobes, if you have at home. In any case, this does not have to be the case. Today we tell you how you can give your house a unique look if you dare to paint the interior doors in an original way.
What is the key to a perfect result? Choose the color well, depending on what you want to achieve. If you only pretend renew your doors Because you are very damaged from everyday use, you can repaint them in the same color they have now. It will be a good idea if you do not have the necessary budget to change them at this moment (I assure you that it is not nonsense, changing the doors of the house is not cheap).
But it may also be that you decide to paint the interior doors for give it a completely new air to the interior design of your house. For this you can use vivid, intense colors that contrast with those chosen for the walls. The decorative effect can not be more special. And if not, take a look at the images that we show you in this article. You will love it!
Dare to paint the interior doors yourself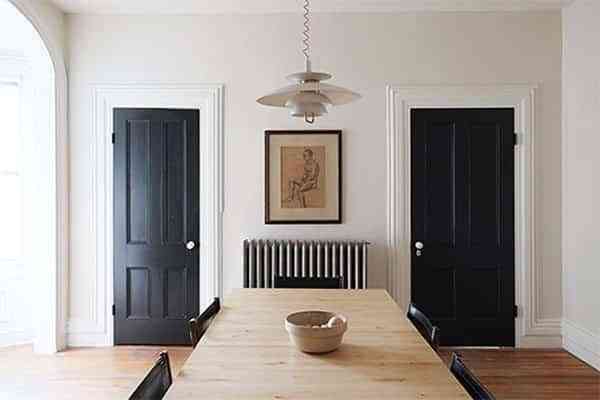 It may seem like a difficult job, only reserved for experts in DIY or handyman in general. Nothing more far from reality. Painting the interior doors of your home is a task accessible to anyone that it is a bit confused in what refers to the use of the brush or the roller.
If you take the job with optimism and if you apply the tricks that we are going to reveal to you in the following lines, you will surely get a perfect result, like a professional one. And, most importantly, you will have some beautiful doors and the satisfaction of having painted them yourself. You dare?
Start by choosing the color and paint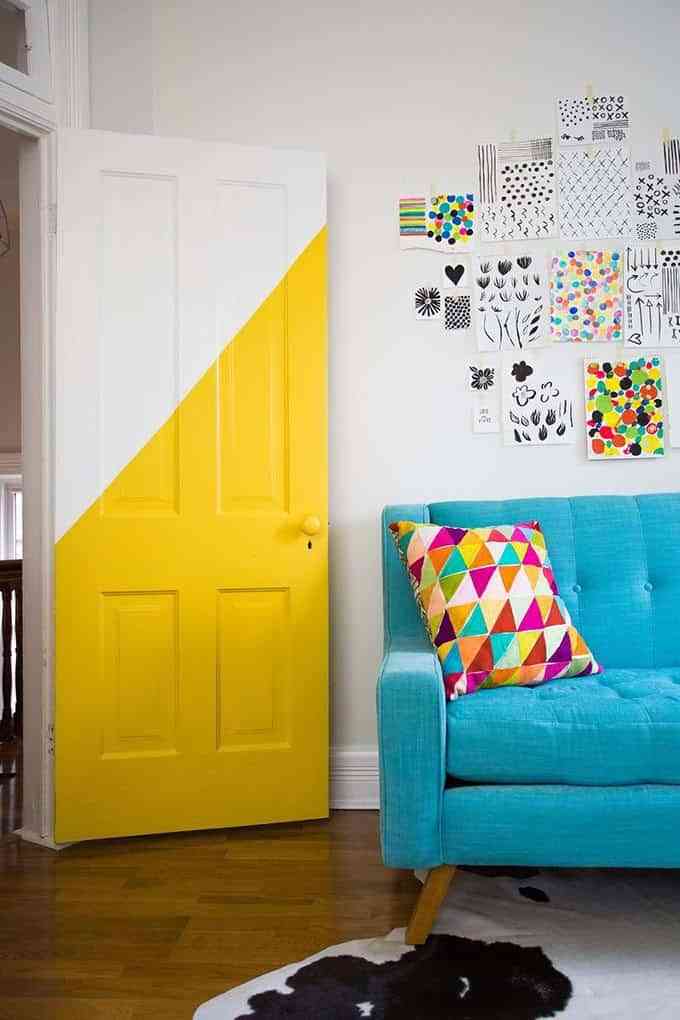 You have decided to paint the interior doors and now you are in that delicate moment (and also exciting) to choose the color. The possibilities are so many that surely you find it difficult to decide. It may help you surf the web looking for photos. In any case you will have to take into account the color of the walls. Starting from this, you can choose colors for the doors that contrast or harmonize.
You will also have to decide if you prefer to use acrylic or synthetic paint. Whenever possible, I always prefer to use the first one since it is much more comfortable and easy to use, since it is cleaned with water. There are great acrylic paints, resistant and with a great adhesion capacity, so much so that it is not necessary to apply a primer beforehand.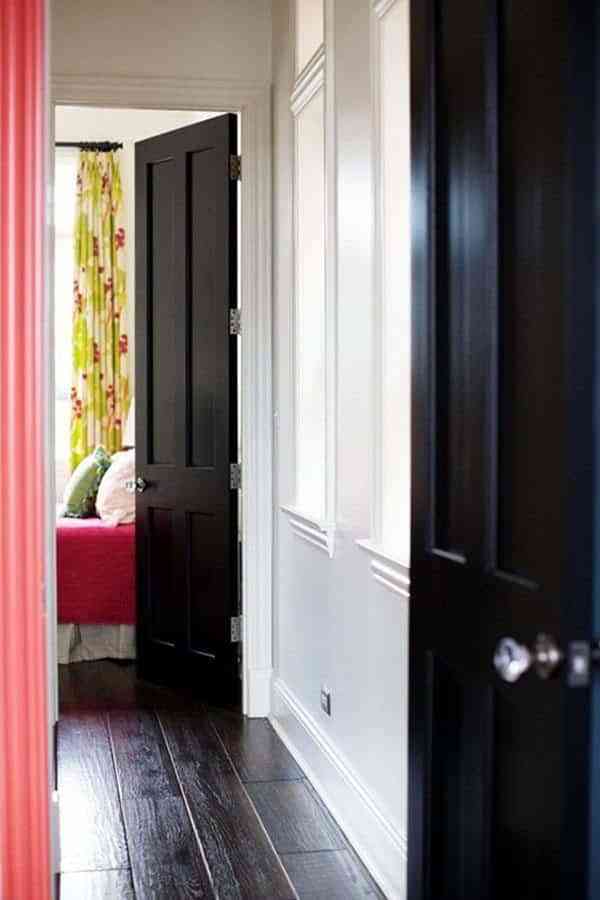 If your doors are dark and you want to paint them white, for example, you will have to give them 4 fine hands of paint. But if you choose a medium or dark color, with three layers of paint will suffice, whatever the current color of the doors. This is important to calculate the paint what will you need?
Do you want to know how many paint cans you will have to buy? Well, to know it roughly, you have to make a calculation of the square meters of doors to paint. If we take as reference that a standard door measures 2,10 m high and 0,90 m wide, we have 2 square meters per door. Well, it would actually be 4 square meters, on both sides. As we have to give 4 layers, in case of choosing a light color, that would give a total of about 16 square meters per door for which you would need about 750 ml of paint for each door. Frames are included in this quantity.
Tips to paint better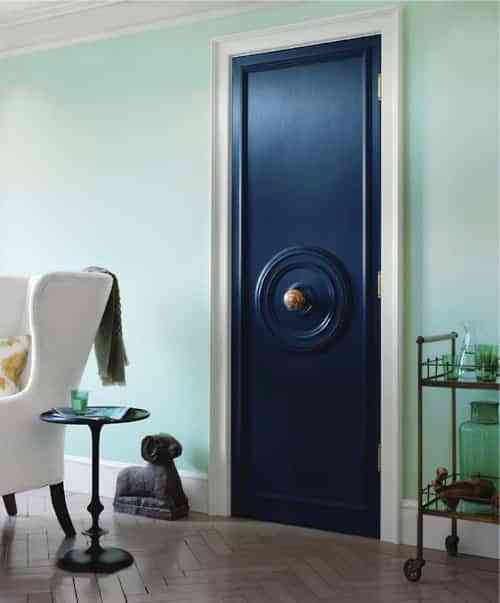 After calculating the painting and buying everything you'll need, it's time to get down to work. To begin, you will have to remove from the door all the hardware, locks, latches, latches, handles or knobs you may have.
Protects the hinges with painter's tape and also the exterior of the frames so as not to dirty the walls. In case you want to take advantage to change the door handles, it is best that Fill the holes with putty. So you will not have problems in choosing the handles that you like, although the holes to put them do not match the previous ones.
Use an electric sander and a fine sandpaper to sand the door. The moldings will have to be sanded by hand. Then remove the dust with a damp cloth and start painting.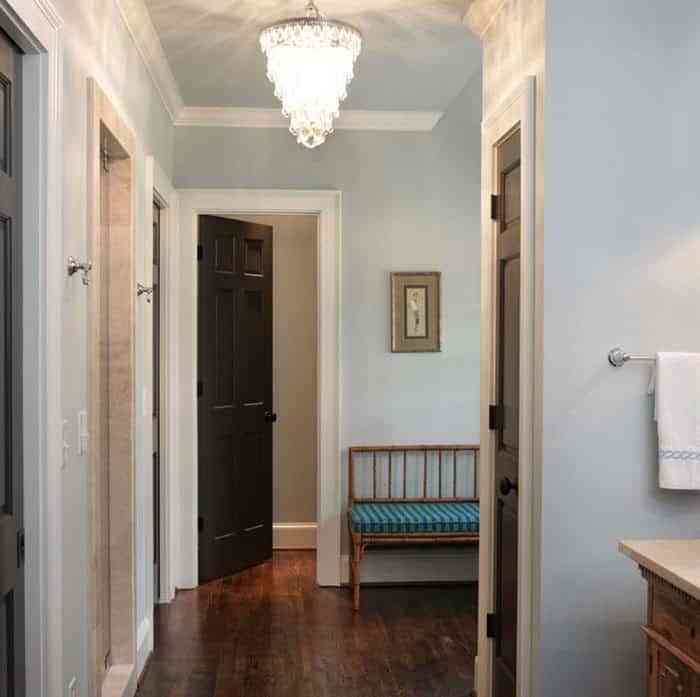 Whether you do it by brush or roller, it is best not to load them with paint. It is better to extend it a lot and Give thin layers. Handles the tools vertically, from top to bottom. When you have finished painting the door on both sides, let it dry and then sand the surface. Repeat the process until you complete the 3 or 4 layers of paint your doors need.
As you can see, painting the interior doors can give you a lot of decorative play. And since it is a simple and pleasant job, it will not cost you so much to do it yourself. What do you think about the idea?