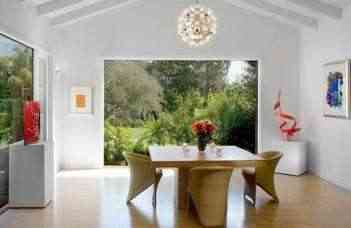 The informal and cozy style, with natural colors and textures make the rooms unique. The decoration of the tropical-style rooms offers a relaxed atmosphere. You can choose to decorate a room completely with tropical style or apply only small touches of this decorative style.
Some of the most common accessories in tropical decoration are: The use of flowers such as orchids and hibiscus on colored fabrics used in curtains and upholstery, the use of colored fabrics with images of tropical birds and animals such as monkeys and tigers, and bamboo wall papers.
You can also place a vase with plants, to improve the decoration of tropical style.
The tropical style furniture should be made of natural tropical woods like bamboo, with some colors and shades of earth. Depending on your tastes, the lamps in the decoration with tropical style can be colorful or in softer earth tones.
If we have our furniture with earth tones, we can choose to use more brightly colored lamps.