Good morning everyone, today in this space I leave you with some glasses turned into great candle holders. Right now we are at Christmas, maybe you want to add a different touch to your home.
These, as you see, are painted yellow ... but you can add the color you want, even draw something Christmas.
But they also serve to decorate, our spaces, at any time of the year. They are also very easy to make.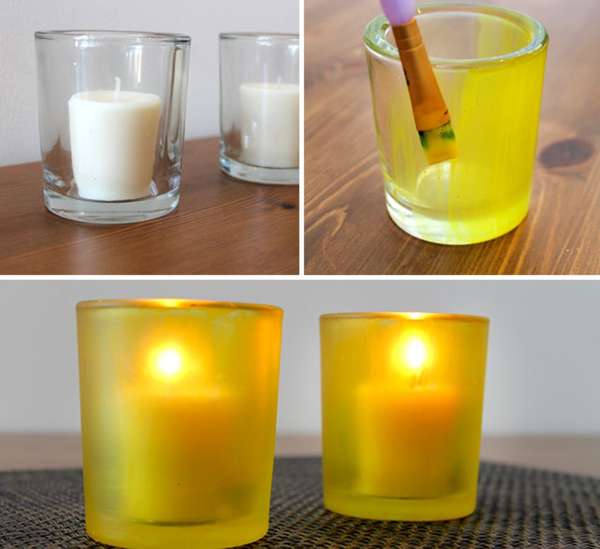 Most of the things you need, you will have at home .. or they are cheap. It is important to have containers that are not too thin.
By this I mean that you choose glasses that are made of thick glass, in this way they will hold bigger candles, without breaking.
Remember that if you are doubtful in this aspect, you can always resort to adding small candles that do not give off much heat and will not break the glasses.
On this occasion, the said glasses, are small and have been painted yellow .. but as you can see, the glass paint does not completely cover the glass.
In this way, being translucent, we see how the flame dances inside the container. This beautiful and dynamic game, I like it a lot.
To paint the glass, with adequate paint, try to use gloves and a brush. With this last one, we are passing the painting in one direction. Remember, all brush strokes have to be done in the same direction.
Then let it dry, you can give as many layers as you want. When they are well dried, the glasses that you have painted will be ready to put the candle inside.
Remember to paint, these glasses, outside. It does not matter the color, but paint them on the outside if your intention is to add a candle inside.
As you can see you can do as many as you want and even use glasses that you do not know what to do with them. It's something easy and cheap, that you can do whenever you want!
photo: trendhunter