One of the pieces of furniture most coveted especially by men, are the mini bars, the interesting thing about this type of furniture is that the decor has adapted them in a remarkable way making them every day more profitable possible and of course highly decorative
Have a minibar adorning our room, it's not just a excellent aesthetic highlight but an own and particular space where we can entertain friends and family or take that deserved rested after a hard day's work.
The mini bars as well as other pieces of furniture can adapt to different Decoration trends, we will find models of high avant-garde, extremely classic or contemporary, although wood is the preferred material for those who choose to implement it, this is the product of the classic conception of the commercial bar and the undeniable beauty of wood, some models like Q03 Bar by Quench Home Bars it moves away from the classical conception and presents beautiful models of character mobile and functional in stainless steel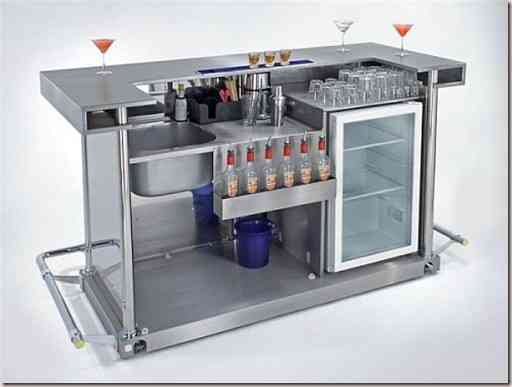 El minibar out of what many people may consider is a decorative piece that requires great dedication in its conception, it must be comfortable, make the most of the space where it acts, besides being extremely comfortable for those who enjoy their pleasures, on the other hand we will appreciate that the glasses and bottles will be Ornamental decorative elements, therefore, its distribution and disposal possibilities result in the aesthetic impact of the mini bar in the environment.
On the other hand a totally particular and beautiful conception is the one favored by the designer Zaha Hadid this Iraqi designer, has completely revolutionized the idea of ​​a mini domestic bar creating pieces of a vanguard incredible and highly aesthetic, implementing all the characteristics of the last generation plastic polymers.