In a room or bedroom, the star is, without a doubt, the bed. The bed is the absolute protagonist in any bedroom that boasts and, the headboard, plays a very important role. The headboard is able to define the decorative style, but not only that, it depends on such important aspects in a bedroom as comfort and comfort.
The choice of the appropriate headboard does not only depend on the aesthetics or the space, it is also important to take into account the needs of the person or persons who will use the bed. Thus, for example, a person who likes to devote time to reading in bed, before sleeping, does not require a similar headset to a person who does not perform this activity.
Next I am going to show you a really original idea that can inspire you when choosing your own headboard. In fact, it can serve as inspiration to create yourself, attending to your tastes and needs, your own headboard.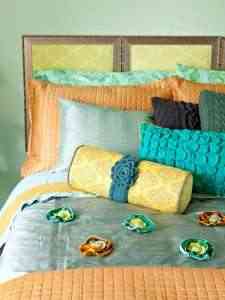 Its nice is not it?
If you look, the headboard is nothing but pictures. These are paintings that have been placed next to each other and which, instead of placing a photograph, image or illustration, has been placed a beautiful fabric that combines perfectly with the rest of the decoration.
If you like this idea and you want to move the decoration of any of the rooms in your house, you just have to select several paintings that you like, place them next to each other so that they cover the width of the bed and inside place a fabric that combines with the decoration.
The height of the headboard will depend on the size of the tables, take into account the dimensions before choosing them. And, if you want a comfortable headboard as well as a beautiful one, place fiber or foam rubber under the fabric.