Playhouses are one of the favorite refuges of children in which to hide their toys and let their imagination fly. That imagination often flies towards enchanted castles like those we find in fairy tales, with brave princes and dragons. Uniting both concepts this fabulous castle is achieved that will be the dream of every boy or girl.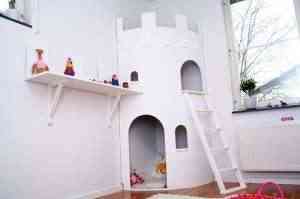 Is Borgen, a product of the company Vera Vera, which consists of two floors, 2 accesses and several windows and gaps in which to store precious objects and play. It must be installed in a corner and its assembly seems simple (pdf of the assembly) although for now it seems that it is not distributed in Spain.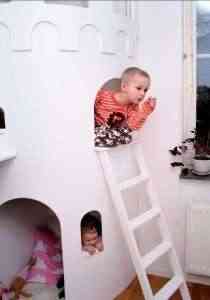 Although the height of the second floor is not very large, it is recommended not to let children under the age of three go up, and if they do, it should be under the supervision of an adult. Another option is to remove the ladder until then and thus avoid accidents. Even so it will be a safe diversion and it occurs to me that when they are a little older they can be used to store various tools and even paint another color, as they are sold in white.
More information: Vera Vera
Vía: Decopes