Although we are in summer, today we bring you a perfect craft to make a nice detail with which to decorate our favorite places. Similar to transparent spheres or snowballs, this detail brings together the same concept but dedicated to spring.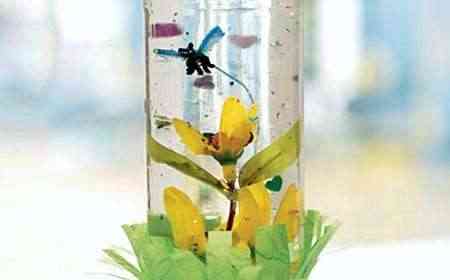 If you want to do it, the materials will:
Clean bottle with lid

Fabric flowers

Small plastic insect

Hot glue gun

Floral wire

Purpurin

Small beads or small pieces of colors

Scissors

Green paper
Take the lid of the bottle and add glue to locate the flower or fabric flowers you want to put on the ornament. Try to fit them in the jar. You can check if they fit by placing the bottle from time to time. Then, once glued, add the other accessories and place small green balls, like grass or pieces of colors that highlight the flowers.
Now locate the insect you have chosen, try to stay above the flower. Fix it in the place you want, but stick it to the end of the floral wire with glue, then glue the other end of the wire to the lid.
Finally put glitter in the bottle, small pieces of colors and beads. Finish by filling it with water. Dry the edge and place the lid. We can decorate the corner we want.