Simplicity is becoming one of the best ideas when it comes to decorating today. The lack of space makes us almost obliged to use little furniture and as practical as possible for our home or for certain rooms.
However, this is not a big problem if we know how to do it with pleasure and using the appropriate resources. An example of this new decorative philosophy is this bedroom, in which we see few elements on the sidelines of the bed and the small tables.
The walls have remained white, except for the headboard of the bed that has been painted gray, as well as the curtains that adorn a large window. In front of the bed, only a wall with small squares strategically placed and with mostly black and white frames. The rest of the furniture is reduced to a chair and a modern dresser, also in white.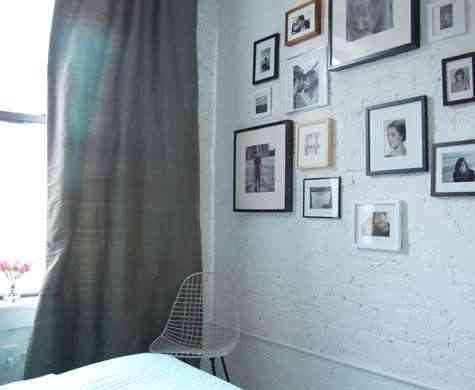 The wardrobe assumes that you will be in an adjoining room or in some corner of the room that we can not see the image. The complete house, decorated in harmony with the bedroom, you can see in Design Sponge.