Vertical gardens for the home
Having little space in today's homes, some will miss the beauty of a garden, the green leaves of aromatic plants or the pleasure of taking care of one of them. So the situation demands to be creative so as not to give up on it and because of this it can be created a beautiful vertical garden taking advantage of the little space you have at home and imposing the touch of nature that we all want to have. In our suggestion today, without spending much or having to invest a lot of time.
Recycle soda cans for a vertical garden
In this suggestion that we present to you, the appeal lies in a charming vertical garden in which the cans of soda that we always throw away are taken advantage of. You know, it is best to recycle them and with them you can do a lot of things, as in this case, a small garden in which to have small plants such as cactus or aromatic herbs. Would you like to try it? sure that the result will be very attractive.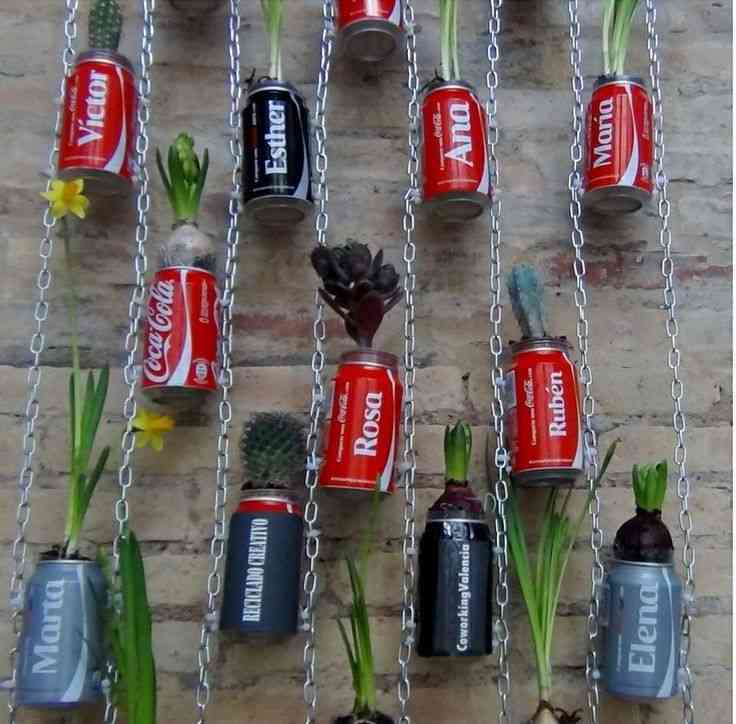 How to make a vertical garden recycled
Keep in mind that the cans are small in size, practices to form this garden, we must take into account this aspect. So choose plants that do not need much room to develop or have large roots because they may not bloom as they should in a can like these. Cacti, aromatic herbs and other small plants are good for sowing recycled cans for a vertical garden.
What do you need for your garden, many cans or enough to give it the look we need? In the following image you will see the step by step to make this vertical garden using cans and chains to hold it on a wall that will be very favored with this decorative option.

Image: DIY Boards