In the middle of summer, enjoy the garden or the terrace is what you most want ... And, one of the best ways to do it is organizing small parties, precisely on the terrace or garden, which also allow pleasant moments between family and friends.
When organizing this type of meetings or parties, many times the table we have in the garden or terrace is left peuqeña at the time of placing all aperitovos and drinks. Today, I want to propose you a charming idea, at the same time very practical, as well as economic.
It's simply about reusing some boxes of old fruits. If you place them strategically and at the time of feeding drinks and snacks you do it in an orderly and original way, the result will be spectacular. Here you have a perfect example of what I say: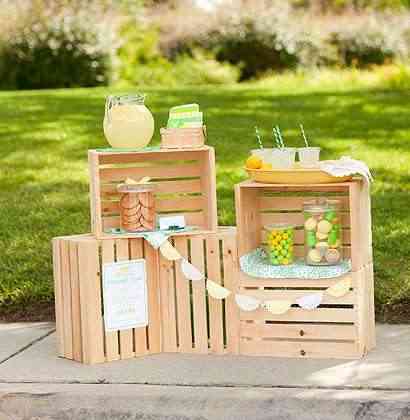 As you can see in the image, that charming piece of furniture is made up of five wooden boxes, placed in a very original way, but five simple fruit boxes at the end of the day.
If the boxes you have are very damaged or if you just want them to fit in with the rest of the decoration of your terrace or garden, a coat of paint will help you to renew your appearance. And, if you want to finish fast, paint them with a spray paint, they will be ready in a matter of minutes ...
Do not forget the little details, they are the ones that give this identity to your garden.