¿You have old hangers at home? If you are going to buy new hangers, because the old ones are no longer worth or you do not like them, in today's article we tell you how to recycle them in a highly functional way. Turning them into a curious coat rack.
With very simple tools and materials, that anyone can have at home, we will make a nice and practical coat rack.
This can be put at the entrance of our home, so that visitors hang your coat, handbag…
To do it we will need some wooden hangers, in this case four; a wooden board, so we match and the whole piece will be made of wood, rustic and functional; some screws, a saw for wood and a drill.
The first thing we will do is mark with a pencil the exact place, of the wood, where we will place the hangers. Remember leave some centimeters away, it will be more elegant and the coats will have more space.
Although we speak of four hangers, we can put as many as we want, for it it is enough to select the length that we want of wood and to adhere as many hangers as we wish.
Once marked the wooden strip, with the measure of distance of the hangers, now we proceed to mark the four hangers where we want to cut them. The idea is to cut them in half, more or less. From where it has the hook, it counts 3 or 4 cm and it cuts there with the help of the saw. This part will be the one that we stick or screw to the wooden strip.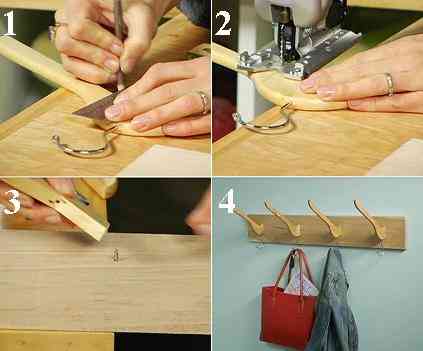 Keep in mind that to provide a homogeneous and balanced look we must cut exactly all the same hangers. Once made, we screw these to the wood, or the we adhere with a specific glue for this material.
The back area of ​​the wood we can attach it to the wall by means of screws or with some specific glue. As we like it. And ready! We already have our origina, curious and above all, I practice clothes rack.