If you have small children it is possible that you have all the fridge full of drawings of yours. They are his works of art and after doing them they like to give them away so that we all share in their work, and of course we take it with a big smile when seeing how our son, nephew, cousin, grandson ... has drawn us. I still have the last drawings of the last little boy that was at home, although it is already getting big and prefers to go to the park to chat with his friends to stay at home making drawings.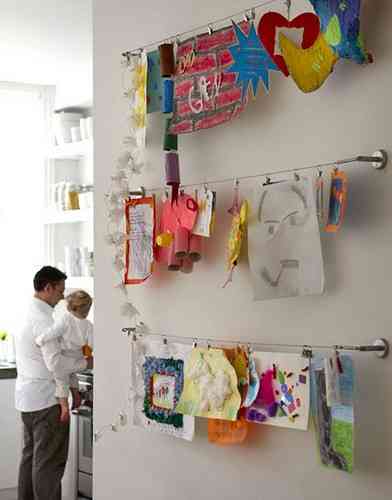 If you are still lucky and you still receive these drawings here we show you a way to expose them all without plague the refrigerator to the point that if we open it will fall, rolling anywhere in the house or stored in a drawer.
It is an intermediate solution because we will have them stored at the same time as a computer, and it is a "picture hanger". We can do it ourselves since it is very simple.
We will have to buy two or three rails of curtains, wall clothes or something similar to what we see in the image, the case is that it is fixed to the wall and I have a rope or cable from one end to another to hang the drawings from there . In addition, we can also post the work you do at school and the ones we give you.
Vía: Decopes