Who does not like good weather? Enjoying the Sun and a pleasant temperature is a pleasure that, the immense majority adore.
I know, I know that the good weather still seems to us, to all, too far away. However, when I came across this idea that I am going to show you next, I could not resist sharing it with you.
While you wait anxiously for the arrival of the spring season remembering the afternoons of the sun, take paper and pencil and write down very well ...
The truth is that the good guy in general, we usually love: we enjoy more of the days, encourages us to relate more, we are in a better mood ... Of course, some negative aspect had to have and, the certain thing is that in certain hours, it It makes it unbearable to enjoy the Sun without protection. Although, a good awning I could avoid this discomfort, right?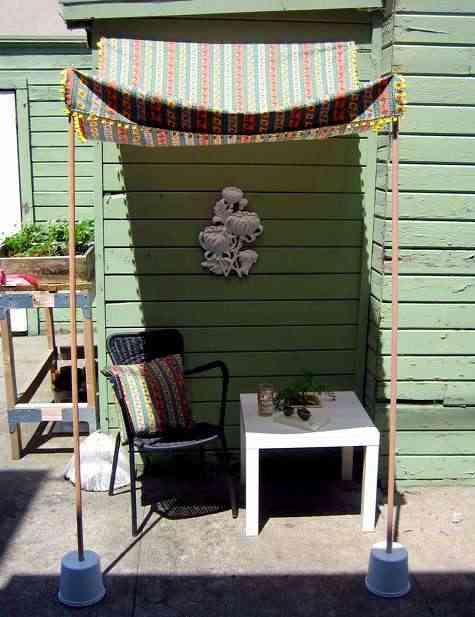 If you want an economic and effective awning that allows you to enjoy the good weather in your garden or terrace, these are the materials what are you going to need?
Heavy fabric (preferably light colors)
Two sticks of the same size
Two pots or containers (of reasonable size to hold the sticks that in turn will hold the fabric)
Concrete
Alcayatas
Spray paint
These are the steps you must follow to make your awning:
With the paint in spray it paints of the color wished the containers and the sticks
Make a hole in the bottom of the containers (must be the exact width of the sticks
Prepare the mixture of semento and place it in the container (cover the hole so that it does not come out)
Before the section dry, insert the stick in the center (it must match the hole you had made in the bottom of the containers). It is about that the cement is with a hole through which to put the stick, in this way it will be well subject.
Nails a hook on the top of the sticks
Make a hole in two ends of the fabric (at the ends that are going to be held by the sticks)
Finally place the containers in the place where you want to locate your awning and insert the sticks
Nails two ends of the fabric to the wall
The other two ends should be hooked to the poles
Ready. That easy.
The best thing about this idea is that, when you want, you can remove your awning easily.