There have always been people who, guided by their need for freedom, have lived in caravans going from one place to another and enjoying many places, but others live in them out of necessity and lack of resources. With the passage of time this type of vehicle has evolved so that you can have an authentic house, with everything you need, to live in it for long periods of time.
An example is this extensible model called 252º Living Area. In principle it does not seem very spacious but when it stops and opens, we see that it is much more. It consists of extendable modules from which different rooms emerge forming a half moon: kitchen, bathroom, bedroom, living room or work room.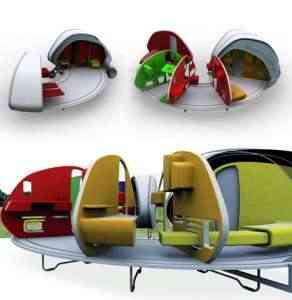 Each of the spaces is divided by a kind of colored walls and without any enclosure, so that they are left outdoors. It also has a protective screen to close it, although it is transparent, ideal to spend a day in the field but not very discreet for many daily routines.
Those responsible for this design are Stephanie Bellanger, Amaury Watine, François Gustin & David Dethoor.
Vía: Yanko Design