The paper lamps they offer us many advantages: they are very practical, in general they are usually quite cheap, installing them is a simple task that can be easily done ... However, among so many advantages there is a drawback: it is very common to see them and they are all the same.
If you have a paper lamp at home that you have tired of or if you need an original lamp but you are not willing to spend a fortune on it, here is the solution: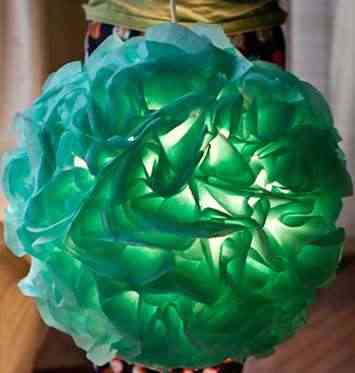 This lamp is not so common, right?
Although it may not look like it, it is the typical round paper lamp, only it has been customized.
If you want to customize your paper lamp and obtain a result similar to the one you see in the image above, you will need:
A paper lamp
A hot silicone gun
Silk paper
Scissors
Doing it is very simple, you just have to:
Select the tissue paper in the color that you like the most and that combines with your decoration.
Cut out circles of the same size (as many as you need to cover the lamp).
Once you have the cuticles you must stick them one by one in the lamp. To do this you just have to put some hot silicone in the center of the circle and bend until you get to create curved lines (step 3 from the bottom image).
Finally, repeating this process, completely covers the lamp and that's it!
Below you can see an image that shows the necessary materials and the step by step of the customization process:
It is a very simple craft that will help you to customize the classic and so seen paper lamps obtaining as a result a different and very original lamp. In addition, it is ideal to decorate any space: children's rooms, receivers, etc.
Do you dare to put it into practice?