If you want a original lamp And different, today I'll tell you how to make yourself one easily, simply and economically.
We all have at home some lamp that has stopped liking us or that we just do not use. If so, what I propose is to recycle or reuse that old and outdated lamp to turn it into a more beautiful and current lamp that you can incorporate into your decoration.
The idea is that you get a lamp similar to this one: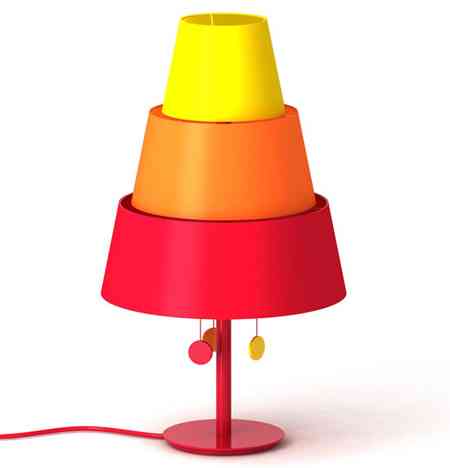 Ideal, right?
The first thing you should do is paint the base of your old lamp of the color that you like the most. For this you can use spray paint, it will be much easier and faster and the finish will be much cleaner and perfect.
Then, decide if you keep the original screen of the lamp or replace it with another ... That depends on the size and design you want. In addition, you must bear in mind that you must have two other screens that will be placed on the first one and that they must have a smaller size, as you see in the image above.
Keep in mind that the screens can also be painted in order to achieve a totally customized lamp, adapting it completely to your decoration. To paint them you can use, as with the base, a spray paint that will allow a clean finish without too much effort or work.
Turn your old lamp into a new decorative element, current and that brings originality and charm to any corner of the house is a simple, fun and economical ... Do you dare to give a new look to your decor and lighting?