With the passage of the last 10 years, or little more, we have attended as main participants of the great change that technological development caused in the lives of the habitual viewers of the whole world. Without talking about the advance of science and technology, it can be said that the citizen current was mostly affected by changes in the media.
The appearance of mobile phones, ridiculous for their initial price and discomfort, sowed in everyone's imagination the possibility of communicating individually, directly and unlimitedly, from anywhere in the world, with anyone, at any time. The time limits began to falter, like the borders of the language. Between the recognition of the distant, and its proximity, appeared sophisticated devices, different from the telephone, which allowed the ordinary to make video calls to their loved ones, and see them live on the other side of the world. Now it is not romantic to think about seeing the sunrise in Paris while in Mexico City, it's just a matter of scheduling an appointment, getting in front of the computer and spending a little bit of bedtime.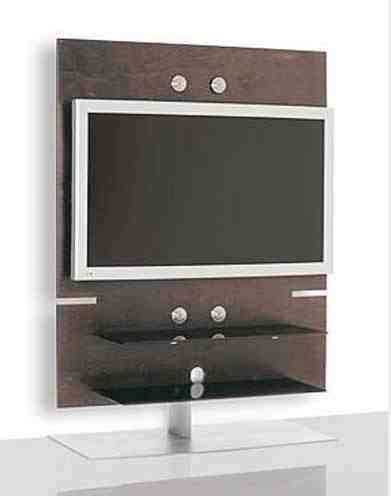 The television signal, the stations and the online newspapers, initially rejected as undesirable, took the daily life of the citizens and now, not only do we not think about life without a cell phone, but we also use it as a portable television, music player, diary, camera, audio recorder ...
We can still buy a piece of furniture for the television but we will have to take into account that the device is not close to our parents' and that it needs a design according to its new form. The WIND shelf, designed by the DESING DZ studio, is used to hang plasma televisions and measures 110 x 60 x 152 cm. It has its structural column built in aluminum, its base is made of stainless steel, the shelves in thermo-formed glass and the main part, which holds the appliance, in plywood. A piece that we have never imagined before is exactly what we now need at home.
More information on the website http://www.studiodesign-dz.com/