It never hurts to have a glass of red wine when we have a pork chop, a white wine, if we are having a healthy salmon, or a last of pink, if the menu includes seafood. It is also not bad for us to take another one after finishing to give for the good preparation of the food, for the reunion or for the wonderful opportunity to share that glass of wine. We may not all be aware of how much we enjoy this drink but what is certain is that most of us have memories of happy moments related to their consumption.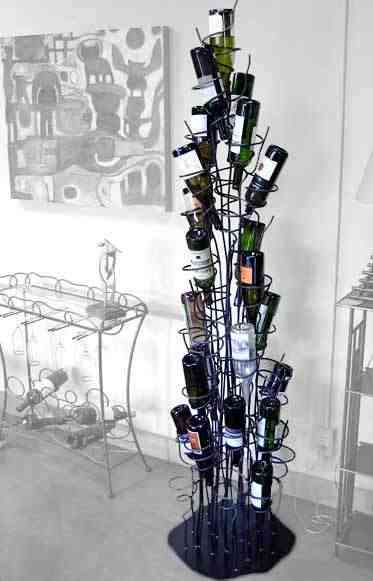 The wine is noble and we do not have to be very knowledgeable to understand why a good wine is the best birthday present for a friend, the best present for the chiefs and an excellent ally when it comes to lovingly ambushing. It is important to know that the red is tempered, that the white and pink, cold, and that the more expensive the bottle, the better the quality. Let's also take care that the bottom of the bottle is concave, the deeper the better, and do not fear the synthetic corks; the natural is no longer carried for ecological reasons. It is also important to know that French Champagne is a type of sparkling white wine similar to Spanish Cava and that it is called by that name because it is native to a region that is called in the same way.
The beautiful bookshelf to rest WINE ARBOL DE VINO, created by KENDAL LECOMPTE, is inspired by the Sequoia tree. This piece of design is aimed at connoisseurs and novices in the world of wines, who in any case want to keep their bottles in a harmonious, elegant and easy to use way. The small version of this design allows to store 10 bottles, the large 17, a mini version serves to store 7.
More information on the Website www.kendalllecompte.com