Those of us who have pets at home know well that when it comes to selecting the decoration of our home we should have the 'bichejos' of the house, take them into account. Not only in terms of general decoration, but also, as far as the accessories and elements that we must include in the decoration and that are exclusively for the kings of the house.
Beds, rugs, pet play areas, elements whose function is the game ... There are many accessories and accessories that we can find for animals. Today's post is dedicated to those who have cats at home ...
If you have a cat at home you should know very well that these little rioters love to be in the heights, whenever they have occasion to climb the highest furniture ... Well, if you want to give cat a pleasant surprise, with the idea that today I bring you, you can do it.
The idea itself is simple, economical and effective, I assure you that your cat will love it. It is an original bed that you can place on the heights ...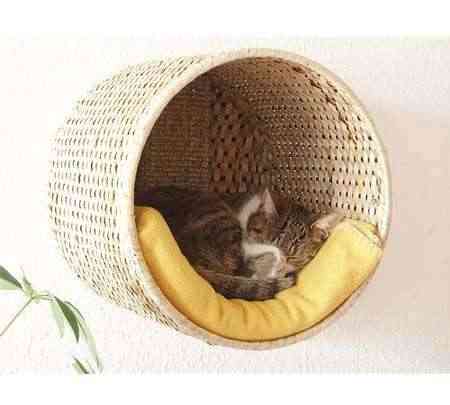 As you can see in the image above, the idea is simple but effective.
It is simply hang a basket of the right size on the wall, so your cat can get into it. To make it even more attractive, comfortable and comfortable, place a soft blanket or cushion in the basket.
I assure you that your cat will be delighted with your new bed.
In this case you have opted for a basket but you can use for the same purpose any item that has the appropriate shape and size. In addition, you can combine the colors of both the basket or item you use and the blanket with the rest of your decoration, especially if the new bed of your cat is in sight.