The whiteboards they are not a very common element in the decoration of a house and, the few times that they are introduced in the home, they are usually located in children's rooms. However, a blackboard can be an original decorative element at a decorative level and very useful, also in other rooms of the house.
By chance I found this image: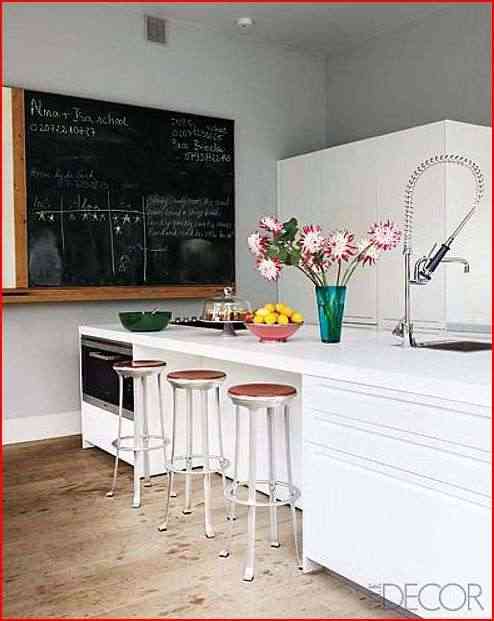 As you can see there has been added a blackboard to la decor of this kitchen and, far from out of tune, has been fully integrated into the decoration becoming the protagonist.
Apart from the enormous decorative power of the slates and their particular charm, in a place like the kitchen, it is also very useful and offers great comfort.
Normally, in the kitchen, we continually need to point to remember certain data: the missing food and that little by little begin to compose the shopping list, the delicious recipes that despite being in the book we write down on a paper to have them more by hand, notes that are sometimes left to other inhabitants of the house, various reminders, etc.
With a blackboard in the kitchen, you can get rid of all those papers, notebooks and notes; the blackboard will replace them and at the same time will provide the kitchen with an original 'touch'.
No matter the size of your kitchen, this is a valid idea practically for all types of kitchens, it is only a matter of selecting the appropriate blackboard taking into account the decoration, style and space of your kitchen.
If you have a large and comfortable kitchen, you can integrate in it a large blackboard, if you have some space on the wall you can create your blackboard with slate paint, if you have a small kitchen you will just have to choose a smaller blackboard that suits to the demands of space, if your kitchen is vintage style you can place the blackboard within a frame of the same style, etc.
Do you dare to include a blackboard in your kitchen?