Technology is advancing by leaps and bounds and is something we can see in our day to day, the latest model mobile we had a few months ago has been outdated, computers from day to day are overcome by new devices with better features, the music that used to require a great equipment to be heard today is best heard from the mobile phone or devices that fit perfectly in a wallet ... How far away are the old cassette tapes! However, there are some nostalgic people who still have them ...
If you are part of those nostalgic people who still keep their favorite music in traveling cassette contas and you feel sorry to get rid of them but you do not have much space to keep them for life, today I propose a decorative project that will allow you to leave those old tapes at home and at the same time free up space. It's about creating original na Chair with true retro air using old cassette contas.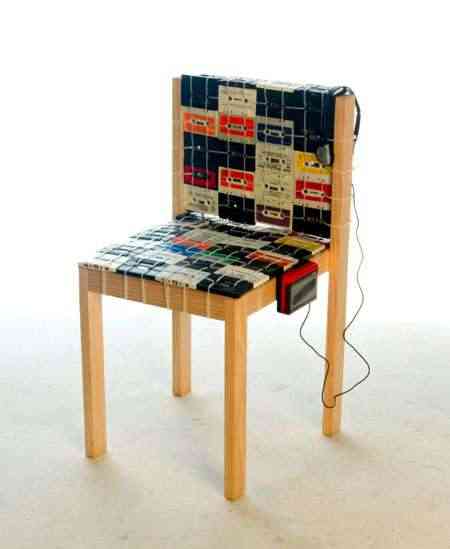 Original, right?
It is simply about covering the seat and back of the chair with cassette tapes.
In this case it has been used to fasten the tapes a space of wires that are responsible for joining some tapes to others. If you wish, you can implement this technique or, if you prefer, you can simply paste the cassettes directly to the chair using a resistant glue.
In this case, to give more originality to the design, if possible, an old cassette player and some old helmets were included in the side of the seat of the chair.
What are you waiting for? Get to work and start creating your own retro chair, I assure you that once integrated into your decoration, it will become the center of all eyes.