The sustainable domestic architecture it does not stop winning followers. A reality that drives interior designers and architects to propose innovative projects. Which one more interesting. How to live in a completely modular ecological housing, suitable for many budgets and assembled in a few hours. If you are among this group of unconditional, I invite you to read this post.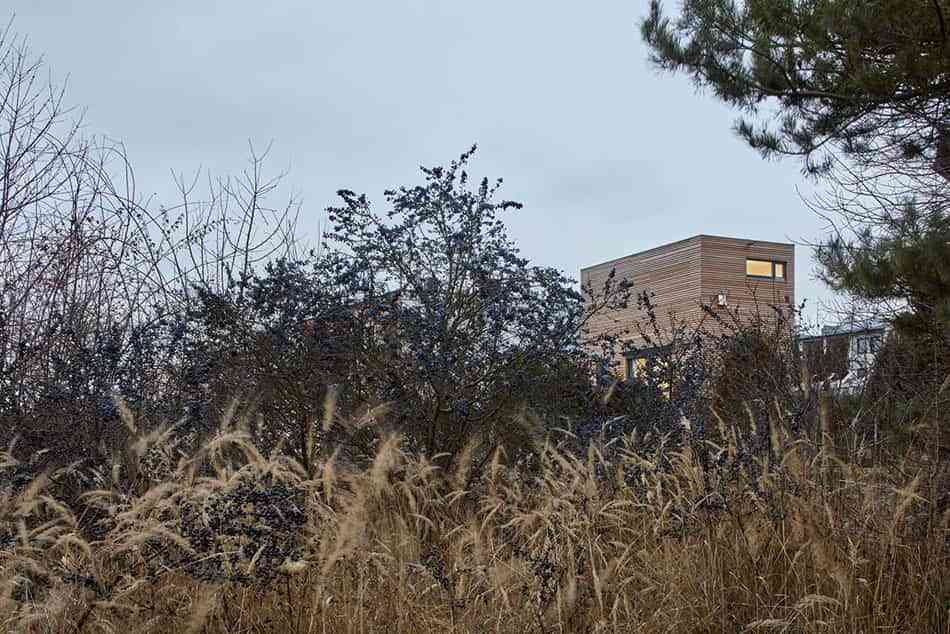 Thanks to sustainable architecture going to live in an ecological home You can enter inside our plans. Not only the great figures of contemporary architecture embrace this way of building with formulas on a large scale. Like Norman Foster and his Amaravati project. By the way, considered the first city in the world one hundred percent sustainable. There are many studies that are launched to create ingenious homes with identical philosophy and healthy spaces. Como Atelier Štěpán and its ecological housing Freedomek nº 061.
An ecological housing module to module
If there is something that defines this ecological housing is the modular approach when lifting it. Created in 2010 and located en full locality of Tochav's Czech Republic. At first glance, its silhouette looks like a compact volume, but nothing is further from reality. From the first moment its architect and creator, the architect Marek Štěpán, wanted devise a flexible house, to what was possible incorporate heights through a modular system that is not complicated to execute.
Thanks to this interesting approach, this ecological housing It has two very functional floors, that look towards a landscape halfway between city and nature through large windows on the facade. Moving from theory to practice was not complicated. When it was time to assemble, it was lifted module to module en a period of time that certainly amazes: five hours approx.
Of course an unusual figure and very to take into account what it means as an innovator. Reduce to the maximum Installation times This type of mini houses makes them even more attractive options. Especially when we started thinking seriously about the sustainable architecture or green as a model of life. Now, this fact is much better understood when discovering that the modules were completely furnished and equipped at the time of its placement.
A floating box with terrace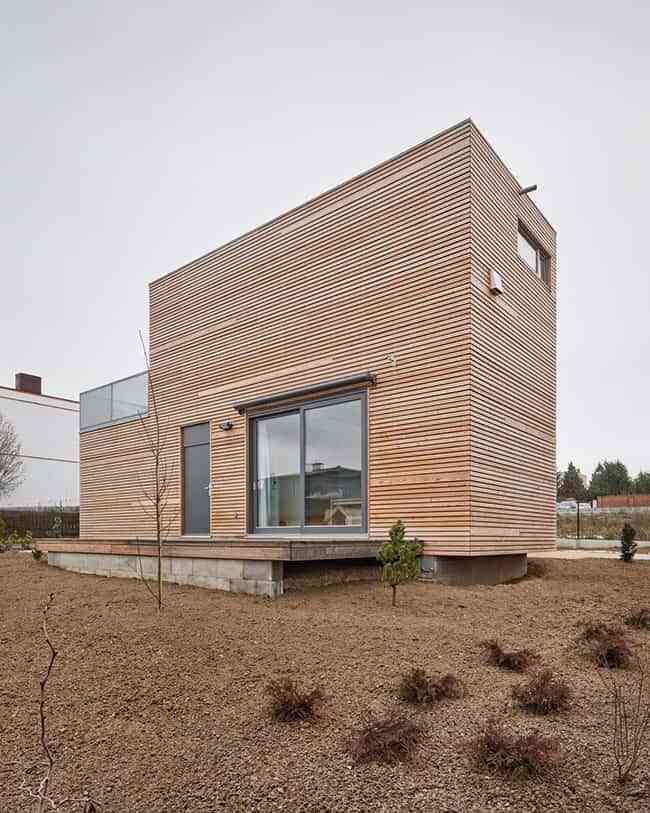 Another sign of identity of this ecological housing is the uniqueness of its form, that somehow reminds the silhouette of a boat looking at the sea. By the way, with a terrace incorporated on the cover: an outer space that evokes the deck of a boat and acts as a leisure and rest area. Perfect to admire the landscape and enjoy summer meetings and outdoor evenings.
There is a reason that explains this stylized silhouette and is precisely its modular construction. These containers or modules, when mounted on top of each other, they configure a vertical type of building and mobile, two valuable qualities that have given it the appearance of floating house to be suspended on planks.
One hundred percent wood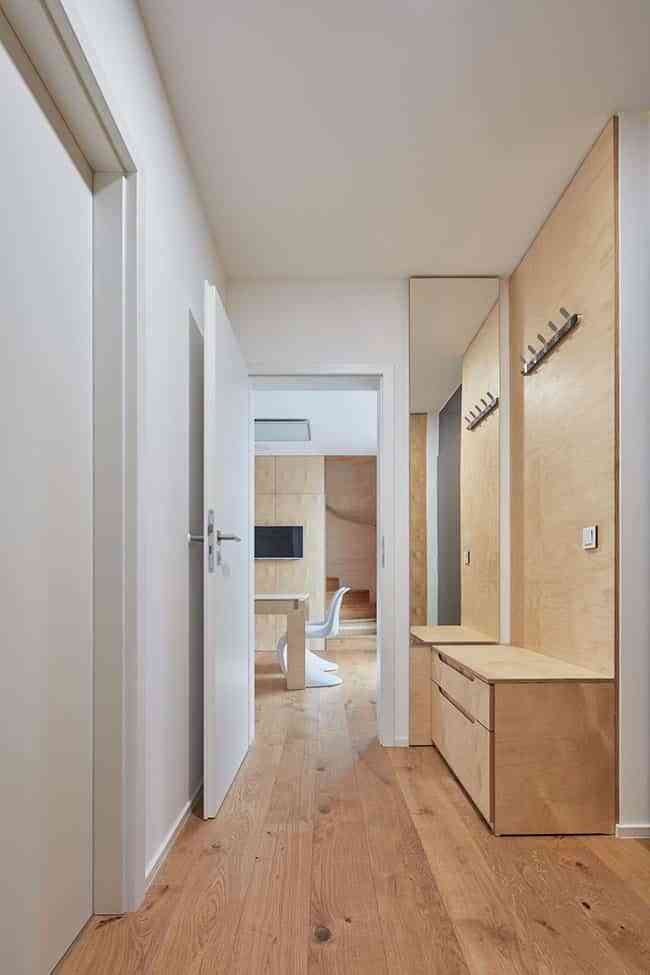 Flexible, modular, mobile and singular in its constructive form. These are the qualities that portray this ecological home. But they do not justify the fact that it is a sustainable house. And therefore Respectful with the environment. What makes it? What is Built in a 95% in wood de region, from a company in the Czech Republic dedicated to the manufacture of this type of housing.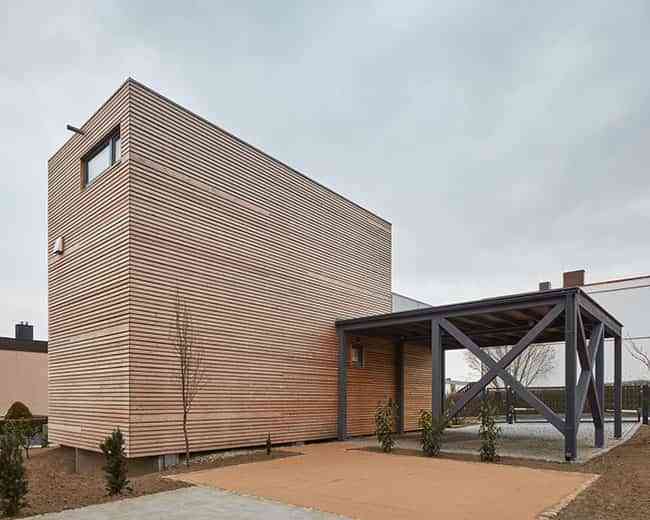 Freedomek nº 061 is a great example of sustainable architecture and in it has been avoided to the maximum the use of materials that No. shows natural and do not tune in with your eco spirit. For example, the architecture studio has designed for it a wooden structure glued and has incorporated fiber panels of wood as insulation. its facade leaves no doubt about the defense of wood as protagonist coating, creating a continuous warm and youthful skin that captures attention at first sight.
Interiors all warmth
The interior spaces of this ecological housing are a lesson in warmth, because the wood covers floors and walls from side to side, wearing a solid oak clear and bright. In addition, the small dimensions of their rooms have been compensated with a custom furniture that fits like a glove, en wood birch plywoodl.
They are pieces that scarcely steal space for move with freedom for the stays, like the wardrobe of the main bedroom, and the shelves of the passage areas. In some interiors it has been played with recessed or folding solutions, that only unfold when they are used. This is the single bed in the room on the top floor.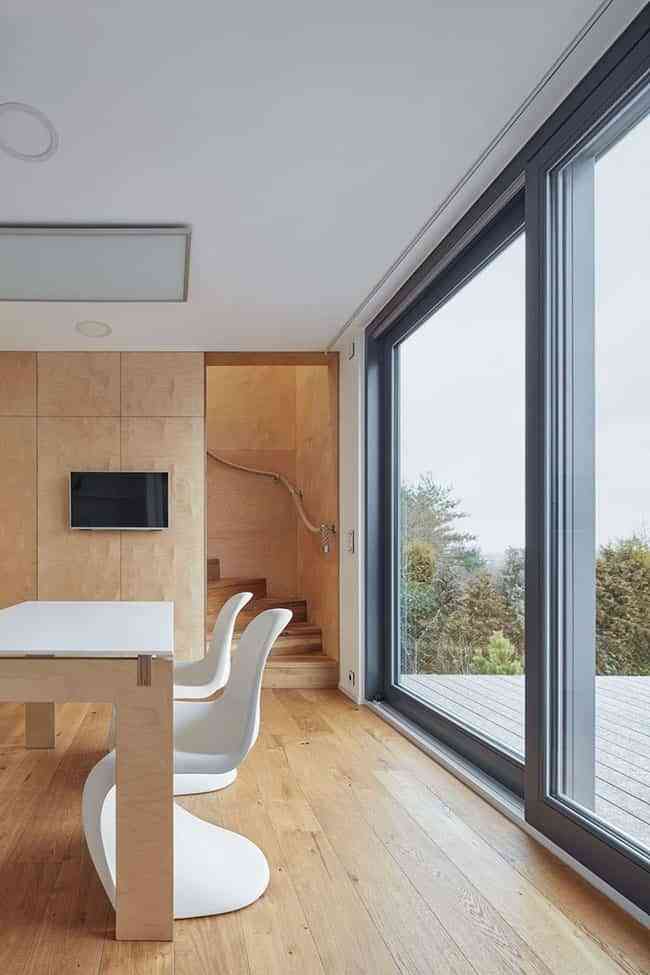 Cabinets, drawers and murals with shelves where all the details have been taken care of to simplify their aesthetics and handling. That is why they have camouflaged the hardware, so that they go completely unnoticed. A interior design where the practical matters but with certain concessions to pieces design icon and some aesthetic winks to the world of navigation.
This explains why the bar on the access ladder to the upper floor is a nautical line and that the mythical chair Panton furnished the kitchen dining room. A model of housing organic farming Racional full of reasons to stay in it, with proposals economic that they save energy and simplify everyday life. But without renouncing the comfort we all seek.
Would you go live to her?
Photos: Studio Atelier Štěpán / http://www.atelier-stepan.cz/