If you want to prepare a centerpiece for a special occasion, this made with apples you will surely love it. The tables centers made with fruits are beautiful, original and very fresh. They are ideal for celebrating birthdays.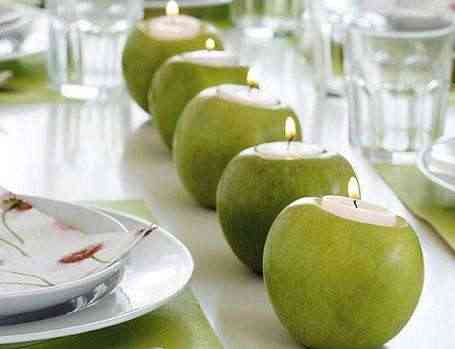 To do it is very simple. We will make with 5 green, red or yellow apples ... in this case they are in a beautiful green color. Take an apple and with the help of something sharp like a knife or a cutter we make a hole the size of the diameter of the candle that we are going to introduce.
Once made we arrange the candle that we want and we will make the corresponding holes in the other apples. At the time of the presentation we can place the 5 apples in an elongated tray in the center of the table.
This centerpiece is quite versatile because we can do almost any type of fruit that we like, for example oranges, tangerines or grapefruit ... just place some beautiful candles and ready.
In addition to the originality and freshness, this type of centers bring life, youth and are very aromatic and easy to make. We can use them for any birthday, party, dinner or special occasion.