Dear friends, today in Decoration 2.0, we want to provide you with a great idea to decorate our tables for possible events, for dinners with family, for special meals or just for day to day.
A very simple center using fruit and some flowers, with these simple elements we will quickly make a beautiful centerpiece.
Provide a fresh touch to your environments with this simple and delicate idea to decorate our tables. The materials that we will need will be some flowers, the ones that you like the most ... in this case they are small roses.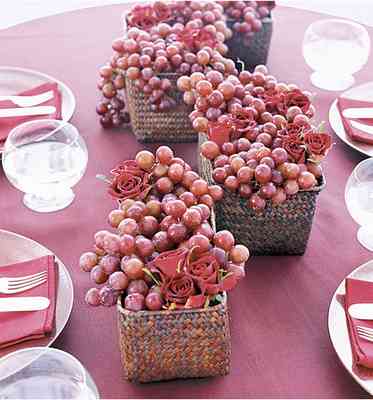 We will also need florist's sponge, one or two baskets, some newspapers and bunches of grapes .. this time red.
The step by step is very simple, the first thing we are going to do is to cut the stems of the roses with scissors ... always diagonally.
Once the chosen roses or flowers are cut, we leave them aside and then insert them into the moistened sponge. When we have done this, introduce inside the basket the florist's sponge that previously we will have moistened with water.
With scissors or another sharp object, we cut the florist's sponge, so that it enters the basket and then we cover it with all the grapes. Cover the entire surface with grapes and then introduce the roses or flowers that we have chosen. Remember to camouflage the sponge well so you can not see it.
Finally we remember that we can make a composition with several baskets, play with color and textures .. add the flowers that you like and ready .. a beautiful centerpiece to decorate the corners that you want.