The yellow color is, par excellence, used to create warm and welcoming environments. In China it is the color of the sun, it brings light, optimism, clarity and a smile. It symbolizes the intellect and wisdom.
So, if the yellow It makes you feel good ... why not use it in our home. If you are looking for the decoration of some rooms, yellow can become the main protagonist of these. This color is recommended for the living room, dining room, kitchen and / or bathroom.
The nature of this color is cheerful and, depending on the tone, stimulating or relaxing. It is a color very used in Feng Shui. Activates the mental functions and predisposes us to concentrate.
The color yellow is very associated, in addition, with creativity. So if your activity is linked to art, what better color to express it.
Yellow is positive, also symbolizes prestige and power. It is a positive color that generates good mood, it is also associated with wealth and dignity.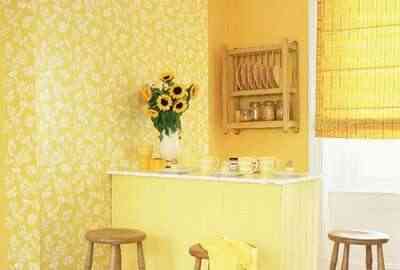 If you want to brighten up the atmosphere, you can include it in the kitchen or lounge... since it will be the main rooms where there is a family reunion. If you want to include it in rooms of the smallest, it will be better in warm colors and pastels., these will help you in your concentration.
If we do not have windows or the room is dark, this color will compensate for the lack of light. Think that a combination with yellow may be other warm colors, but you have to know how to combine them. Do not make compositions only with warm tones, it could be too ... "cloying" or loaded.
Search break the monotony with some detail in cool tones ... For example, look at this room, it is completely balanced. The main color is yellow, but they have included green tones.