For those who love the green color and its possible combinations, Say that this beautiful color is a transmitter of peace, hope and relaxation. The color green it is closely related to healing powers. This color gives our rooms, of energy and tranquility.
If you want to incorporate this beautiful color to any of your rooms you can do it through furniture, paint, wallpaper, wall coverings, upholstery, some objects and, of course, textile details.
The wide range of tonalities, where we can find this color, adds to the multiple combinations we can achieve.
The color green in combination with a rose, It will be perfect for youth rooms or for a relaxation room. Both are colors that complement each other.
If you want a decor to fill you with life, to be fresh and natural, nothing better than combining the green with blue.
Although it is not usual to see very often, combine the green color with brown Earth or chocolate will bring serenity to our stays. If you are looking for that touch Sophisticated and full of tranquility, this combination will give us that contribution, warm and natural that we seek.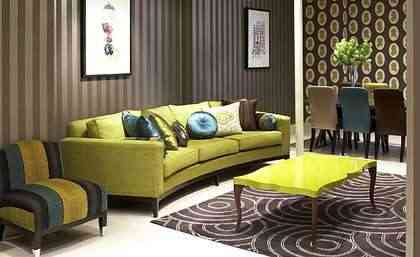 Finally we propose the cgreen smell combined with white. These are perfect if you are looking to increase the feeling of square meters. Ideal for places of small dimensions. Within this combination we can play with floral patterns.