Now we can Take advantage of summer, shells and shells to perform a great decorative mirror with which we can embellish the corners of our home.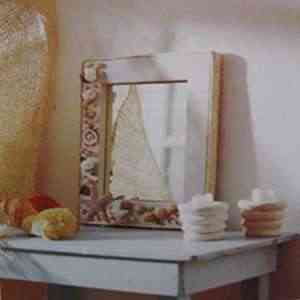 With only some beach shells, we will give a summer touch to our home. The materials what we will need are:
-1 wooden frame
-1 mirror
-Caracolas, shells ... etc.
Baby tape
Golden lace
-Perles
-Pincel flat
-Wide width
-Paper to paper
-Varnish
-Vinilic glue
-Scotch tape
- Fine-grain sandpaper
-Silicone
-Scissors
-Cards without head
-Hammer
First we prepare the frame of the mirror. It must be cleaned, sanded and varnished. Then we let it dry very well. If you want to paint it in another color, paint it and then give it a white hand, after that you can paint it in the color you like the most ... if you want, as a final finish, you can give a coat of varnish.
We can select almost any type of mirror, although his is that it has the wooden frame. Now we place the mirror inside the frame and fasten it with nails without a head. Finally, to embellish the area behind the mirror, we paste a small oval of wallpaper with the help of a vinyl glue. If your mirror has a square shape we will cut a square ... etc. We can also take a mirror that is already framed and armed, thus avoiding this step.
Now we cut eight strips of 10 cm, each one, of baby ribbon and then cut 4 strips of 10 cm each of the golden cord. The ties will be made with four strips of ribbon and four gold cord. We fold in half and join at the ends with tape. Then we will continue with the remaining strips achieving different lengths.
In the upper edge of the frame we will apply a little silicone and stick the ties as we like. To stick the shells and shells first we must sand the edges of the shells. Once made stick, with the help of silicone, the shells and snails to the termination of the ties and ribbons. We will stick as many conches we want to achieve the desired design.
Make sure that the pieces are firm and well attached, be patient. We can also intersperse pearls between the shells, in this way we will make compositions much more visually rich.
We let everything dry very well, and once dry we apply a coat of varnish to our work. Use the flat brush for this ... and go! You can now hang it wherever you like.