With dried flowers we can make great and original compositions with which to decorate articles and accessories. They are usually used to flavor certain corners of our home, but if you ever wondered which way flowers end up in candles, today is a good day to discover it. Sealing dried flowers in candles is not that difficult.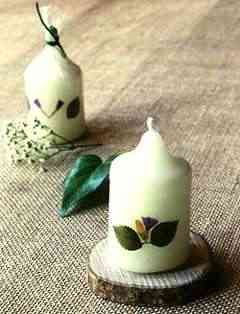 The materials what we are going to need are:
*Dried flowers
* 1 metal teaspoon
* 1 white candle or in its natural color
*Paraffin
* Pot for cooking in a bathroom Maria
* 1 sheet of paper
*Tweezers
* Essence in oil
What we are going to do first is simulate a composition on some smooth surface. Think about how you want to structure the flowers and once we have achieved the effect we want, we set aside.
Now take the spoon and heat it, this way we will make a light pressure on the flowers that, with the help of a pair of tweezers, we will take one by one until we take them to the surface of the candle. Make the spoon operation, with each one of the flowers. This is the way to fix them correctly.
Warm the paraffin -75 ºC- we will quickly submerge the candle holding it by the wick. This technique is done to give a sealed finish to the surface of the candle.