The snakes it's something I never thought about doing Crafts... but I just discovered that they are perfect for making decorative objects beautiful Do you want to find out? Ahead! keep reading!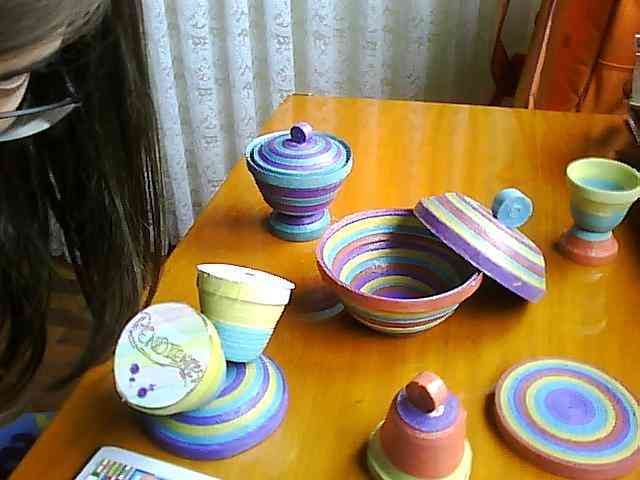 With the help of streamers, a cheap and affordable material, we can make beautiful vessels and boxes with which to decorate.
The materials what we will need are the following.
- Streamers of many colors
- Glue stick
- White glue
- A brush

It may seem complicated, but it's simple, we just have to provide patience and dedication... ah! And of course a lot of art!
We will choose only one serpentine, of the color that we want and we proceed to roll it on itself -Try to be tight. Now we choose another color and, with a little bar glue, the we join the first serpentine -Around her- and we proceed in the same way.
We wind this second serpentine until it is finished - we try not to loose it; then we take another serpentine, likewise we join with glue to the circumference already formed and we roll up until it's over. We will continue this procedure until we reach the measures we want.
The bigger we form the circle of streamers, the higher the vessel or object that we will perform will come out. Once we have achieved the measures that we want, it is enough go molding with your fingers pressing upwards, carefully, but firm.
In this way we see how, little by little, the "walls" of streamers rise transforming into vessels. Great, right!
Finally, once we have made the object, it is enough to varnish with a little bit of white glue mixed with a little water, let dry and go! The mixture causes the paper to harden and last longer.
Now we can decorate any corner of our house, we can use them as small jewelers to store rings and bracelets; to put the keys, to put aromatized potpourri ... thousand ideas, apply the one you like the most!