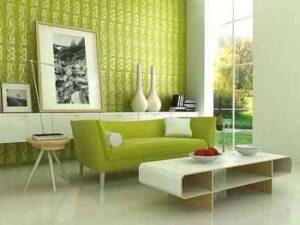 Use different shades of green to achieve rich and intense mixtures. In all its varieties, This color offers multiple possibilities of combination to achieve different sensations.
The walls in light green are more discreet than it may seem at first, also create peaceful and relaxed armospheres, perfect for a room, bathroom or kitchen.
Because it is such a luminous tone, it is also an excellent frame to exhibit paintings, as it will highlight its colors. On the other hand, it gives a light, spacious and cheerful air to your home.
The green color enhances the beauty of furniture made of wood in reddish tones, such as mahogany or cherry. In the same way, this shade and the furniture in chocolate color create an excellent binomial.
The furniture in light tones, like white, stand out a lot on the green, but beware: It is necessary to add darker details to break the chromatic monotony.