If you have a lot of old plastic bottles and you do not know what to do with them ... simply recycle them! Give it a new function and a long life, in addition to this we will help our beloved house ... The Earth and we offer a nice decorative detail to the room.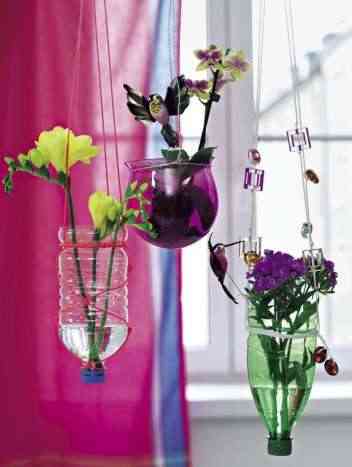 If you like it, the idea is quite simple. Collect all the plastic bottles you need and create different designs. Choose the flowers that you like and get yourself with colored threads and beautiful beads and stones to decorate the set.
The idea is to cut the bottom area of ​​the bottle, the size according to the flowers we want to put. Cut the bottle with the help of a cutter and cut the edges so it does not cut. Then just add a colored thread, to hang our work. Remember to put the beads and stones in the colored thread, so we will decorate the set ..
Finally hang them where you like and add water to your interior ... to have the cap will not leak the water and we can change it with ease.
In addition to beautiful vases, we can turn them into ingenious hanging pots by adding soil and planting the flower in the bottle.